Austria 7 May: Graz
European Captain Dipavajan, in Spirit and Action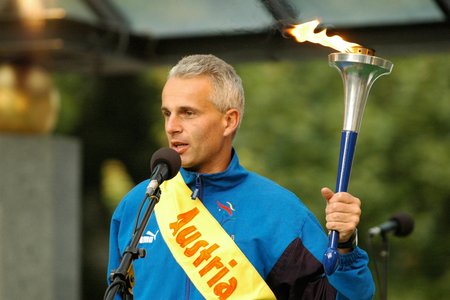 Dipavajan began working with the Peace Run in 1995. In 1998 he began planning a groundbreaking Peace Run 16,000 mile continuous running relay all over Europe for an entire year. This first ever Europe-wide Peace Run started in January of 1999 and finished in the United Kingdom a year later. The relay was dedicated to the new millennium.
Dipavajan continued to serve as the director of the European Peace Run for the rest of his life until he passed away in September of 2019.
His dedicated and self-giving work in creating and maintaining the European wide relay for over 23 years continues to serve as a foundation for us now.
Apaga, who was married to Dipavajan, joins Devashishu and Salil to remember Dipavajan's remarkable contribution to the Peace Run. This discussion features fascinating archival footage of an interview with Dipavajan recorded in 2009.