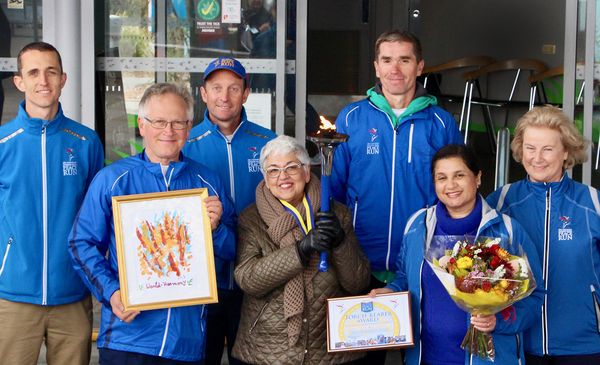 Leonie Ebert, on behalf of the Graham F Smith Peace Foundation was presented with the Torch-Bearer Award on September 18, 2018 at a Peace Run Ceremony held at Mount Lofty Summit. The site is a dedicated Sri Chinmoy Peace Summit, with its majestic natural beauty and panoramic view of the City of Adelaide.
Attending were Uncle Lewis Yerloburka O'Brien (Kaurna Elder), Councillor Jan-Claire Wisdom, Deputy Mayor of the Adelaide Hills Council and Graham F Smith Peace Foundation Board members, Suzy Stiles, Lermony Pillay and Naomi Ebert Smith. Also present were Principal Barb Jenkins with students of the Sadako Peace Group from Bridgewater Primary School and the Mount Lofty Singers including Pat Mudge (President) and Musical Director, Olga Strizhak.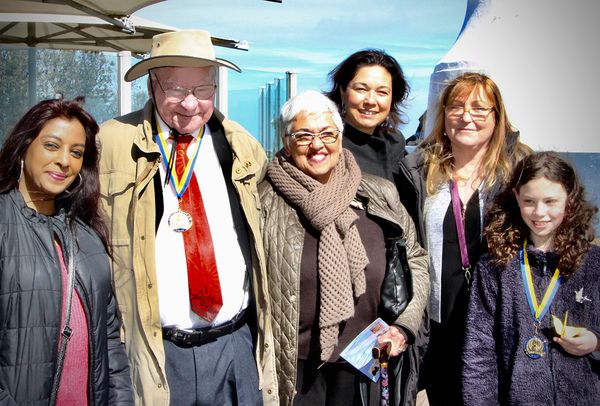 A lifelong union and peace activist committed to justice, equality, innovation and the power of education, Leonie Ebert's teaching career has spanned high schools in Adelaide and in country South Australia. She was among the first cohort of women appointed as High School Principals.
In 1989 Leonie Ebert founded the Graham F Smith Peace Foundation in memory of her husband, Graham Smith. Winner of the Governor's Multicultural Award in 2017, the Peace Foundation is a non-profit organisation that works for peace through all art forms including literature, music, performing arts, visual arts, craft, design, film, video, television, radio, community arts, Aboriginal arts and movable cultural heritage.

Leonie devotes most of her time to working for the Peace Foundation and issues related to human rights, environmental sustainability and social justice. In accepting the Torch Bearer Award she said "The Peace Foundation is very, very close to my heart..…it inspires people to take action through the Arts".  She went on to say that she was particularly honoured to receive the award "in the company of a school (children) which were so important to Graham…also important to me."
Leonie highlighted three of the many achievements of the Peace Foundation "…to work with Uncle Lewis to get a Kaurna Reconciliation …sculpture" and the "associated Annual Walk around the City (Adelaide) …to acknowledge the original owners of this land and to take a message of peace to everyone who participates" and the Peace Rules project developed by Robyn Callan, Corinne Berry and Fuzzy Trojan. "Showcasing the Performing Arts …….. what the schools will be doing is getting their message of Peace out through their artwork"
The Graham F. Smith Peace Foundation is based in Adelaide and is run by volunteers. Graham believed that people who are taught to think and to challenge and who are encouraged to expand their imagination can create a better world. Such was his belief in the power of education. His dedication to the egalitarian principles of socialism, democracy, peace, international understanding and the dignity of labour was the inspiration for the Peace Foundation.