We are warmly inviting youth of all ages to participate in the Peace Run through creative expression and physical activity!
University students from Japan have extended an invitation to Canadians to respond to their artwork by reciprocating their wishes for peace in a similar way. If you would like to participate in this exchange, please send in your submission to youth@peacerun.org
Submissions for the UN International Day of Peace
September 21st, 2020
"Champions of the World" Song from World Heart Beat Music Academy
Our first musical submission is a recording of a song written and performed by young songwriters at World Heart Beat Music Academy in London, United Kingdom. It is called "Champions of the World".
World Heart Beat Music Academy believes music is a universal form of communication that bridges cultural, political, social, economic and linguistic barriers. World Heart Beat takes young students who would not otherwise be able to learn music and gives them the opportunity to learn an instrument. Our aim is to realise every young person's potential in the field of music and beyond.
"Good Job" Song from One Voice Children's Choir
The One Voice Children's Choir from the United States of America has submitted a song that they have dedicated to all of the essential workers, teachers, and parents during this world-wide pandemic. It is a cover of the Alicia Keys song, "Good Job".
One Voice Children's Choir began in 2002 at the Olympic Games in Salt Lake City Utah, from these humble beginnings the One Voice Children's Choir has grown to become a household name on a mission to spread hope, joy and love through their original arrangements of popular music.
 Artwork and Poetry from Gunma Prefectural Women's University in Japan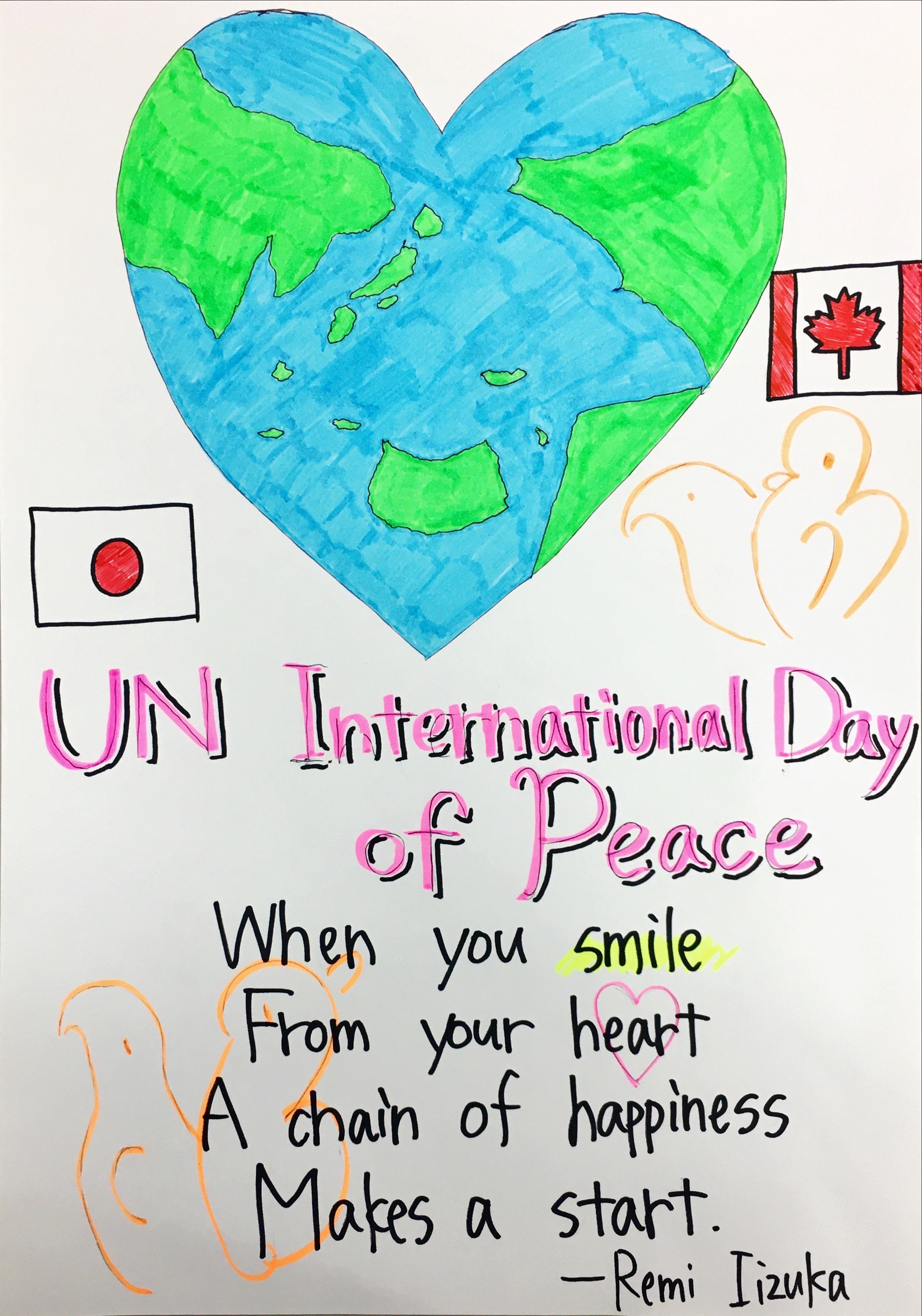 Remi Iizuka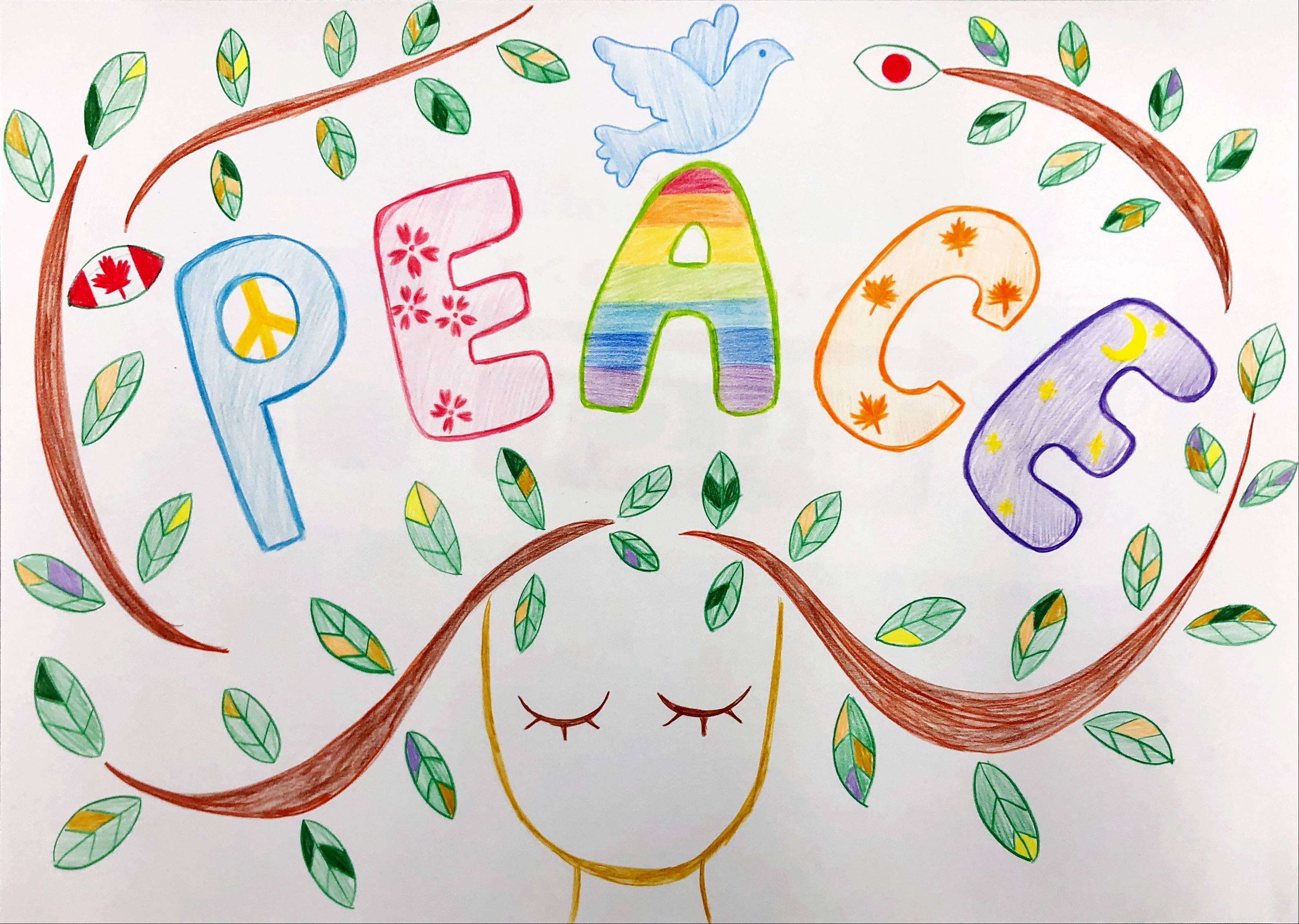 Airi Kawamura
"For me, peace is as powerful and beautiful as a tree.
Each leaf has a different color, it shows that no one is the same, but each one is beautiful and important.
There is a cherry blossom that represents Japan in the letter E.
There is a maple leaf that represents Canada in the letter C.
The rainbow in the letter A is a symbol of LGBT and expresses the wish for gender equality.
In the letter E which is purple one, I drew a starry sky and expressed that if you look up at the sky, everyone is connected and feel oneness heart .
In the center, I drew a dove, which is a symbol of peace."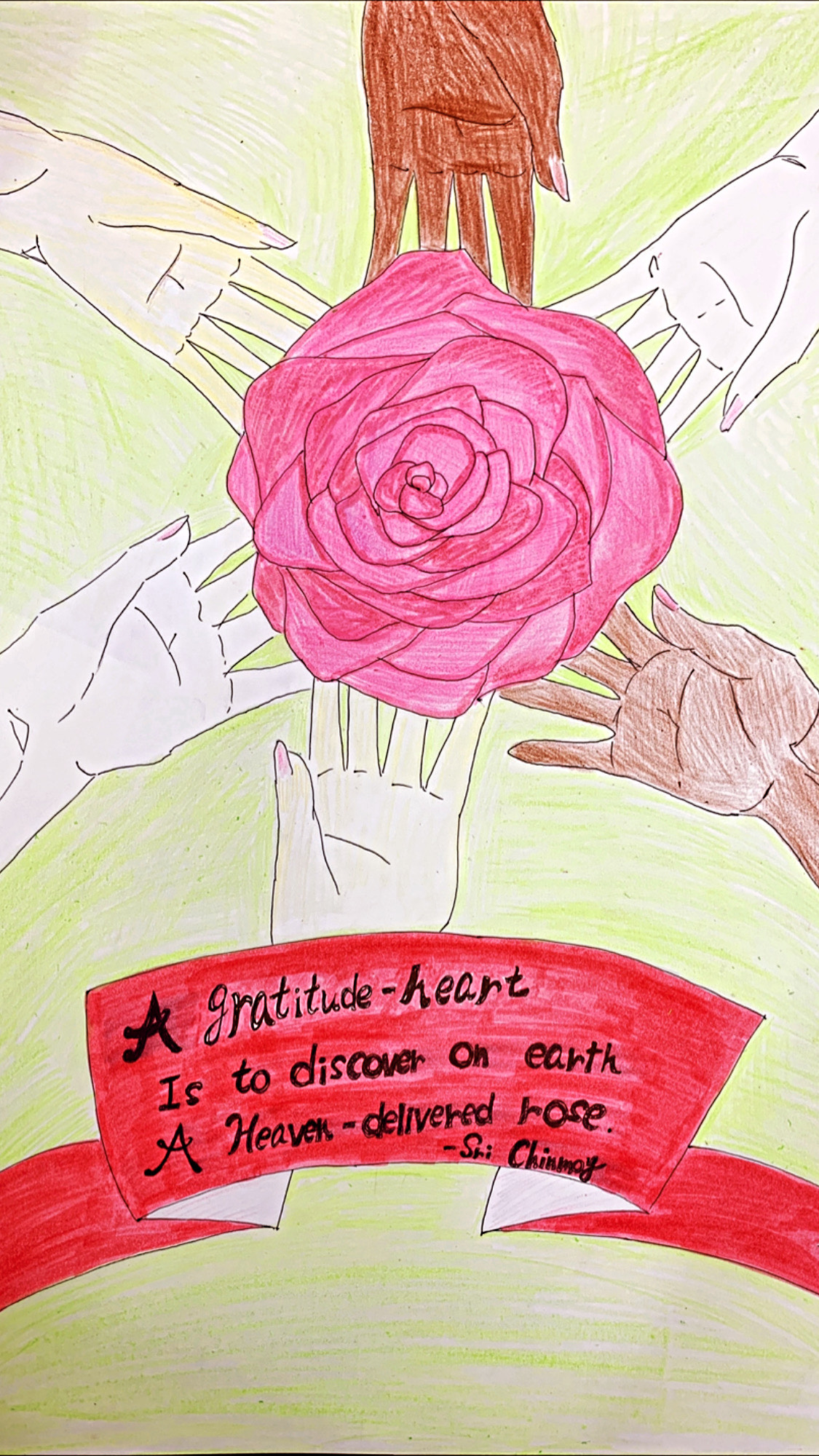 Haruka Sato
"I'm happy I can participate in this project. I draw a pink rose in the middle of the poster because I wanted to use Sri Chinmoy's poem. Also, I draw various color hands to express stop racism."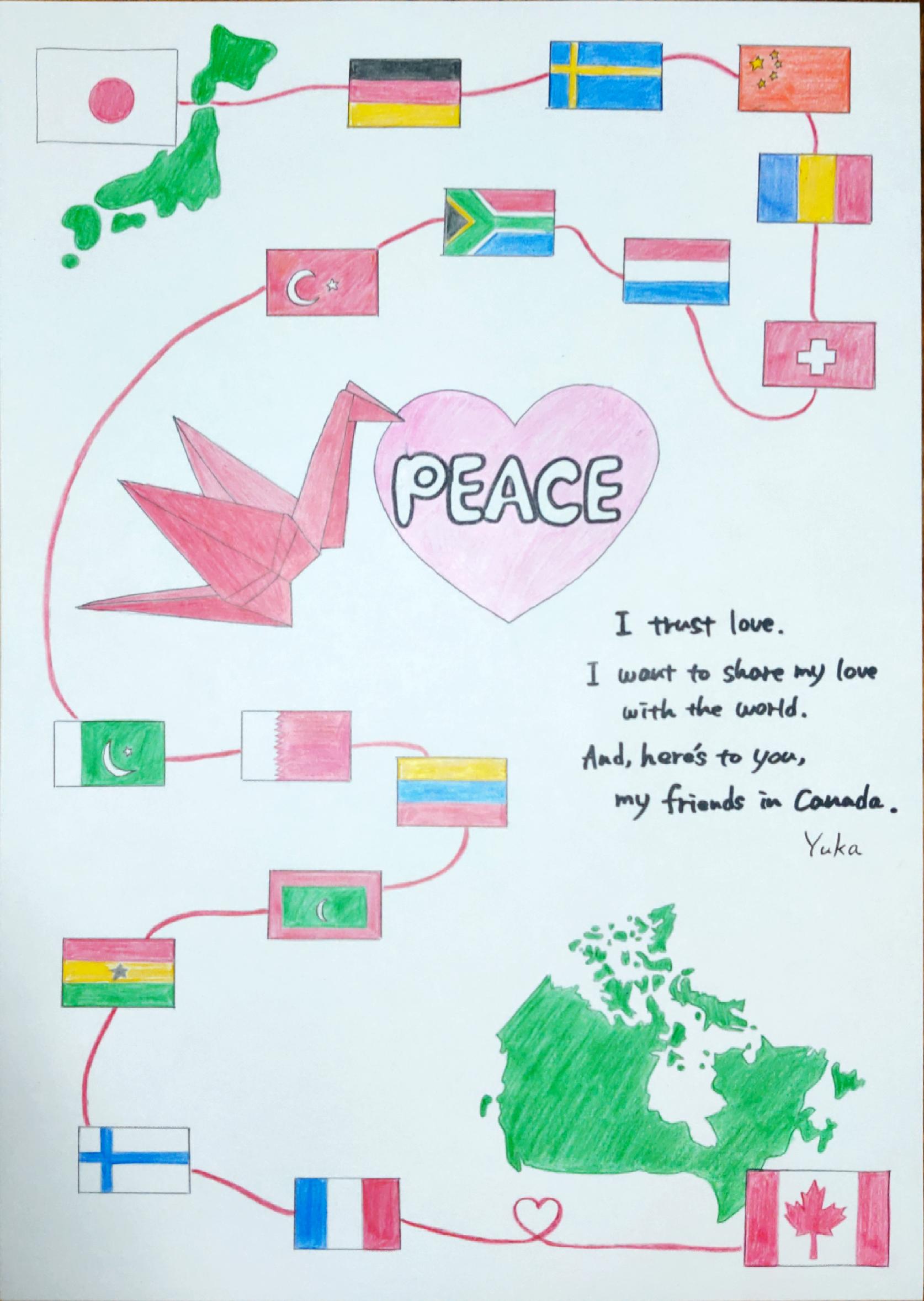 Yuka Yasuda
"For me, one of the meanings of peace is "love". So, I wanted to send my love from Japan to Canada. And when I was thinking about how to deliver it, I came up with a way to deliver it with a origami crane. Also, many of these flags indicate that the origami crane will stop by various countries on its way from Japan to Canada to spread my love. I wanted to tell my message about peace to the world, and my freinds in Canada. That's why I drew this poster."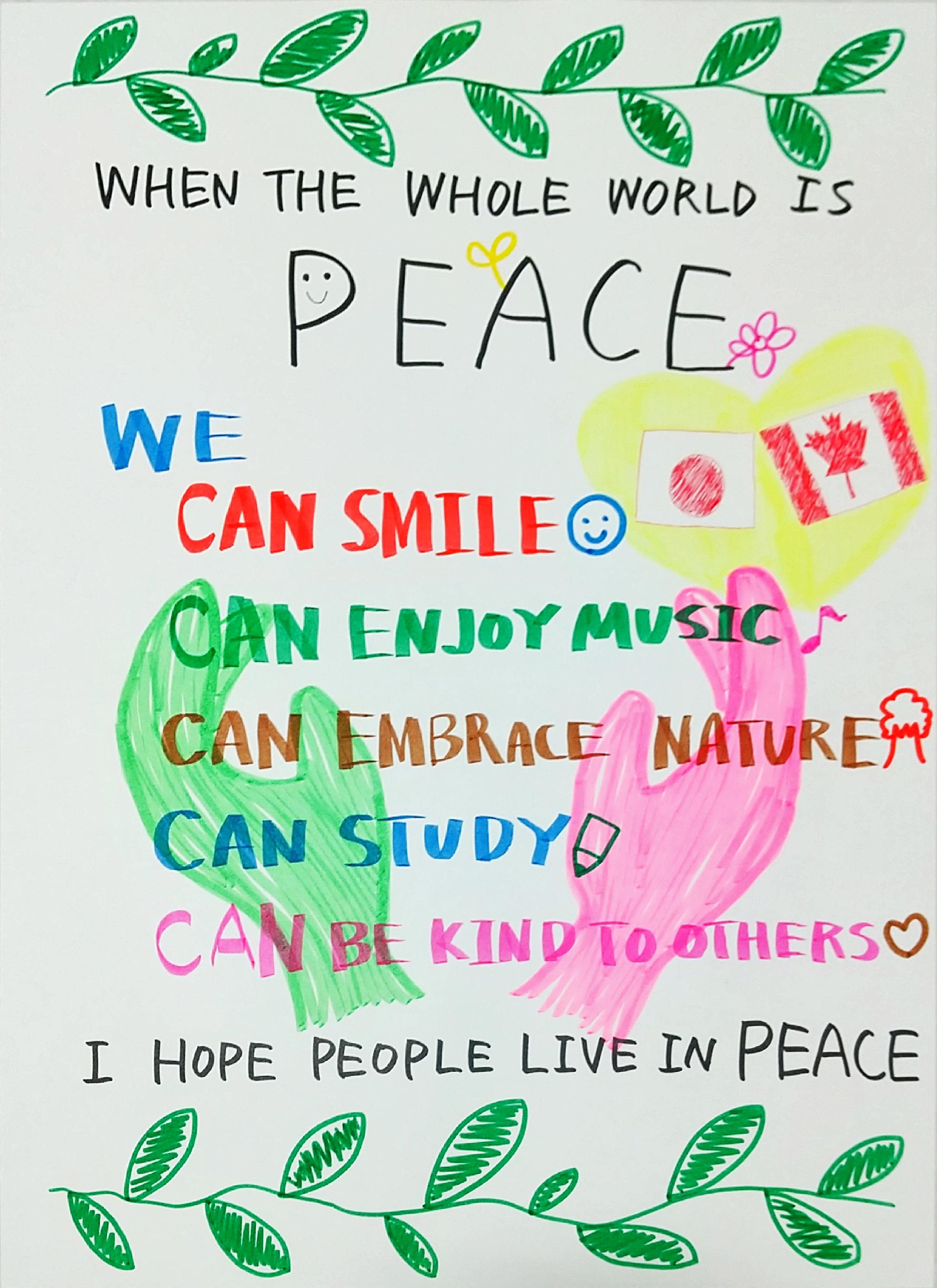 Sae
"I made a poem to express my feelings for peace.
At the top and bottom, I drew olive leaves which mean peace.
In the yellow heart, I put the national flag of Canada and Japan.
At the back of the poem, I drew hands.
I used different colors because there are various kinds of people all over the world.
I enjoyed thinking about what peace is and expressing it."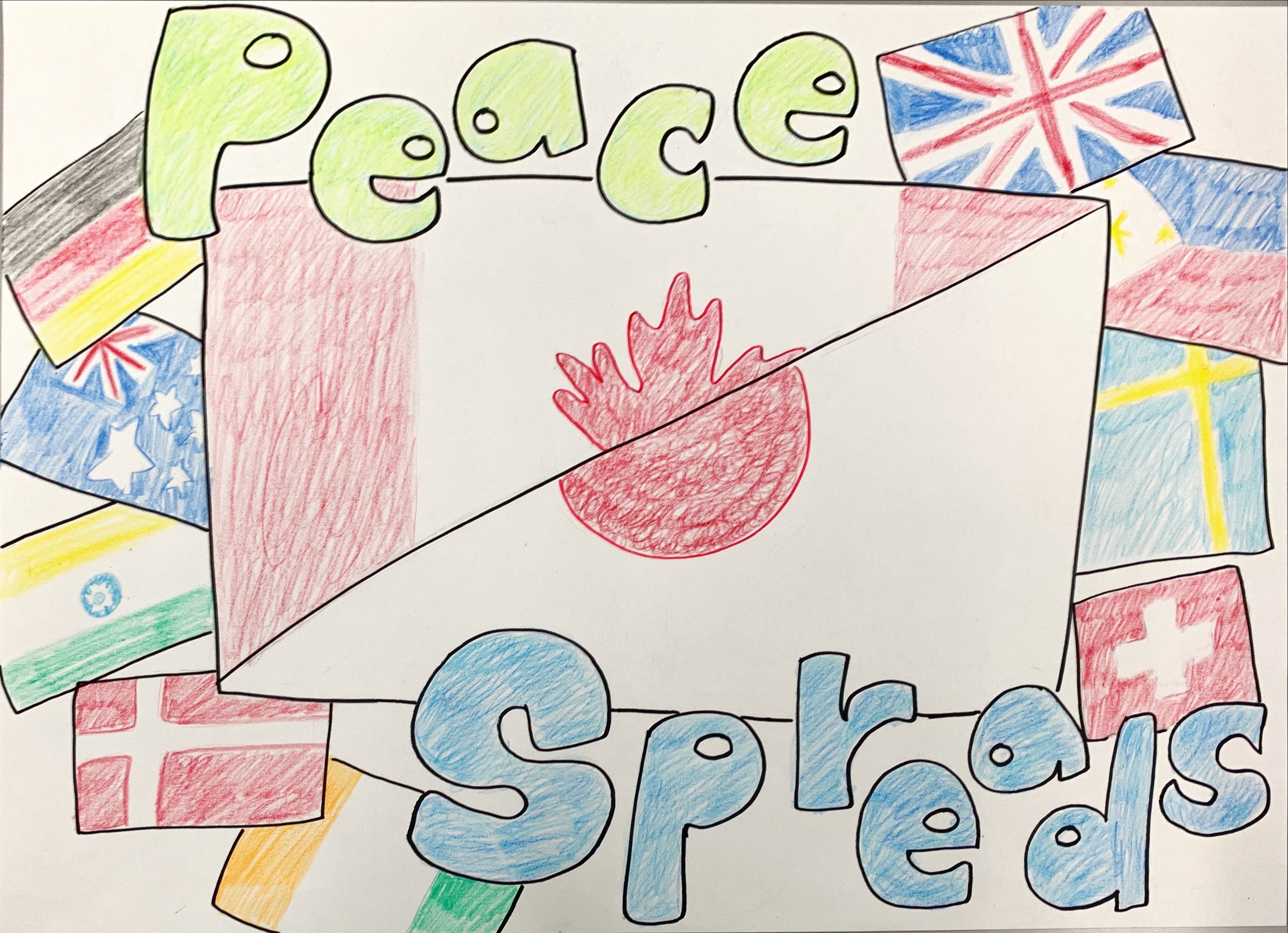 Arisa
"I drew this picture with the message that Canada and Japan play the center role and spread the peace to other countries.  I hope all of the people in the world think that they are happy from their inners."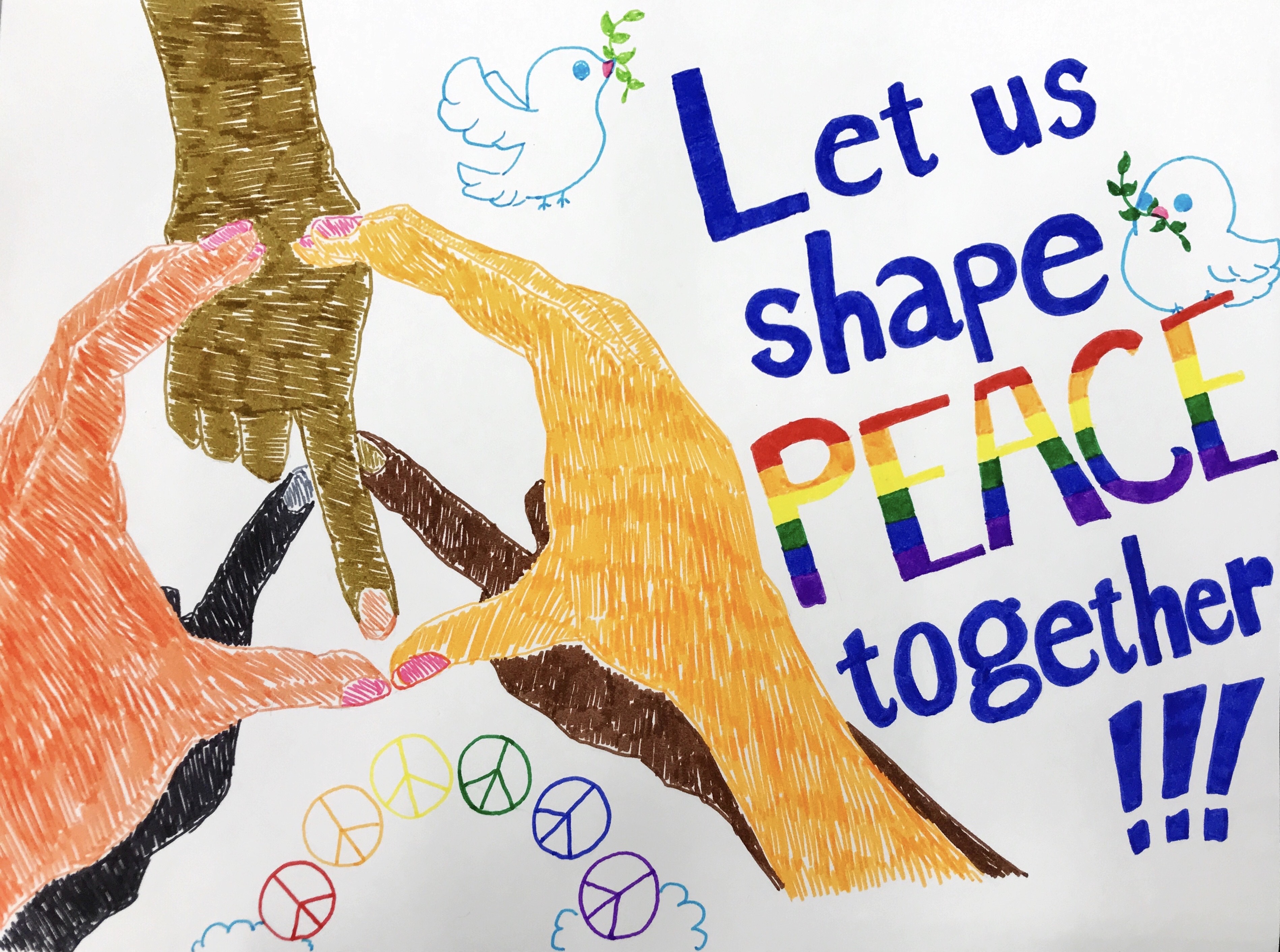 Kaho Oka
"I expressed the world peace with no racism by drawing 5 hands in different colors, shaping a peace mark. Also, I wrote the word PEACE in rainbow color because as well as LGBT rainbow flag, these 6 colors represent peace. the two pigeons and plants are the symbols of peace. On the very bottom, I drew a peace mark rainbow to emphasize the connection of these 5 hands all together."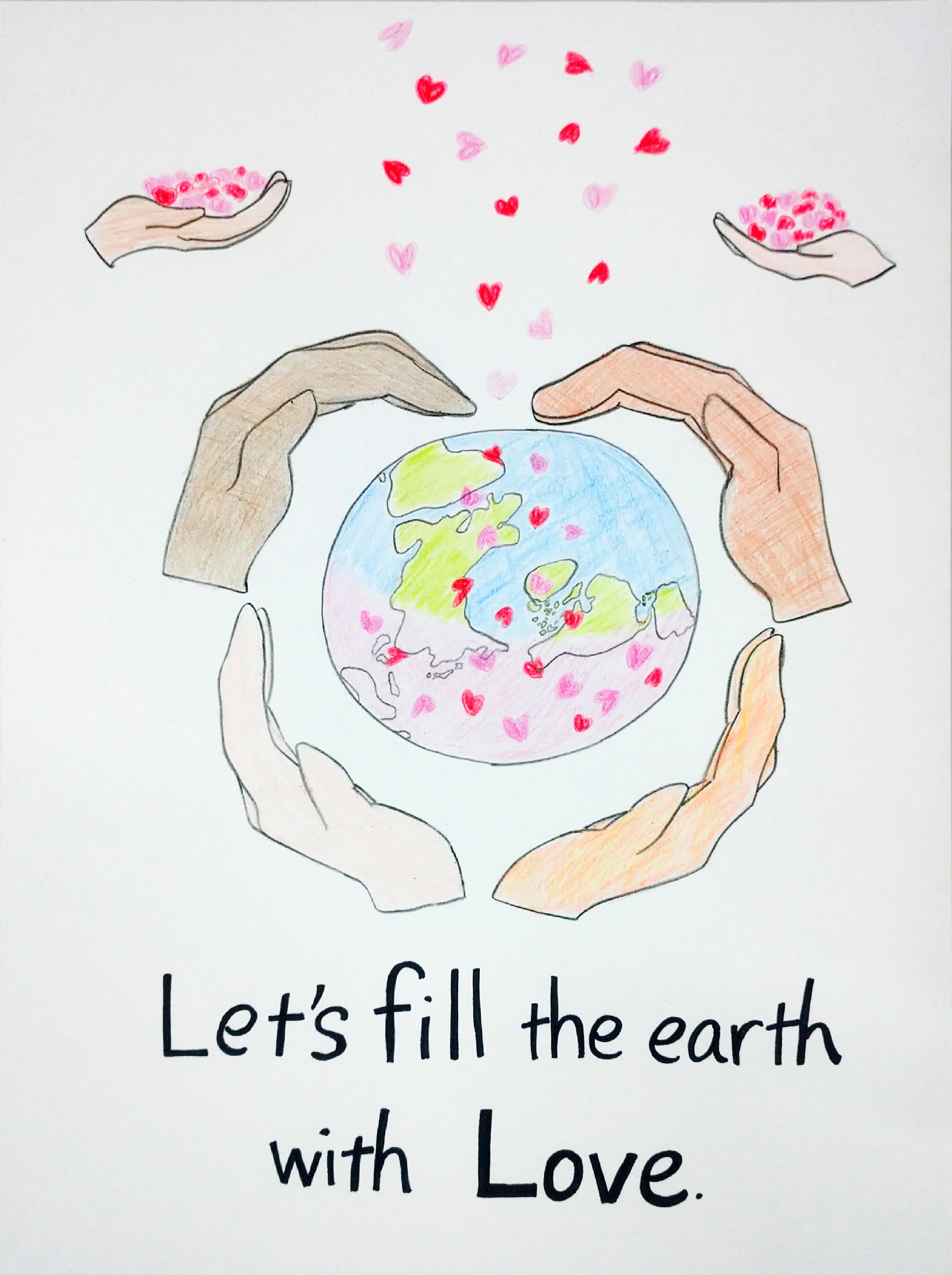 Nanase Koyama
"I wanted to express my thought that if many
love and warm hearts fill the earth, this world
will be more peaceful, and I wish there are no
discrimination by skin color."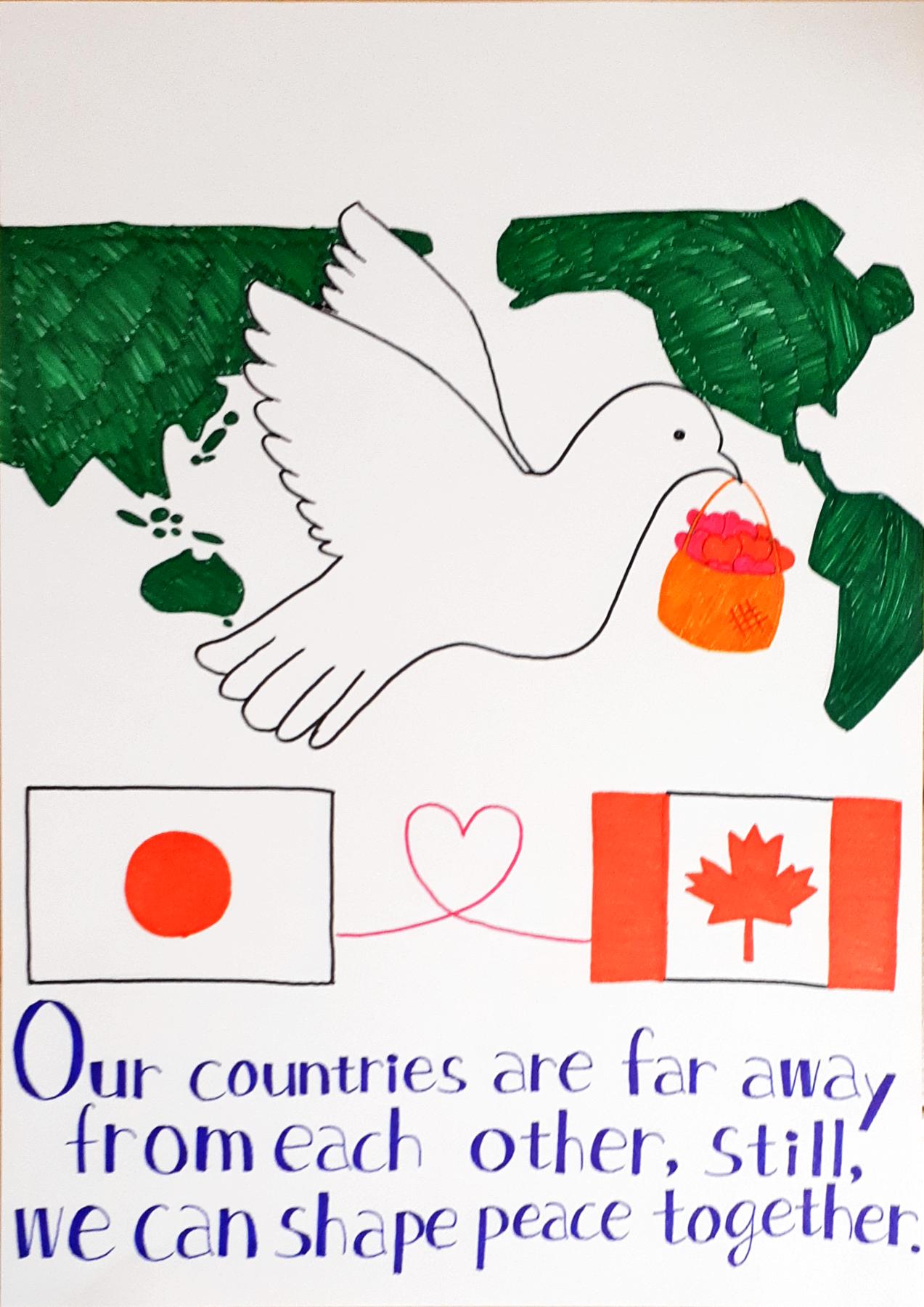 Rio Shinada
"I hope everyone in this world shape peace together!"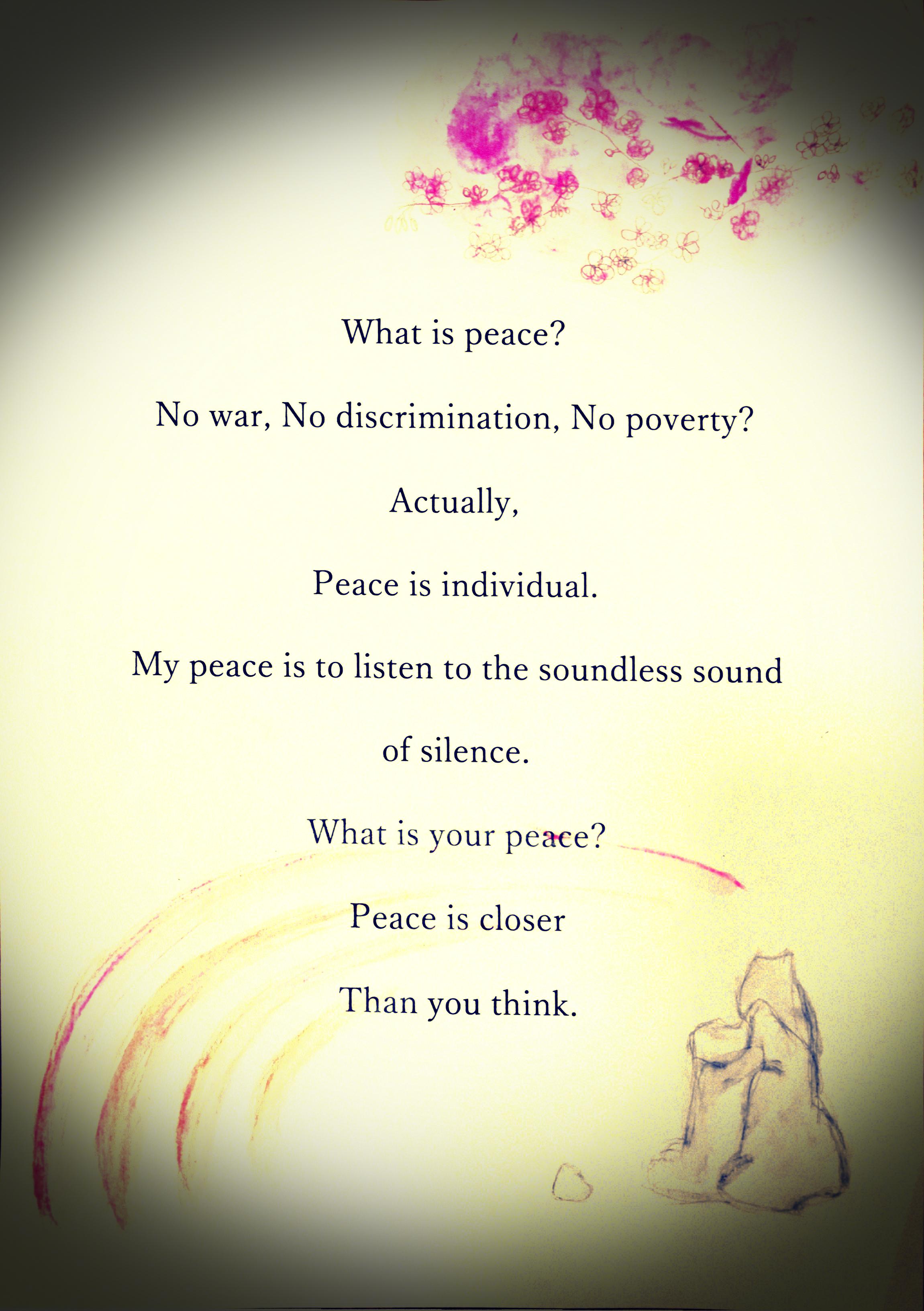 M.Y.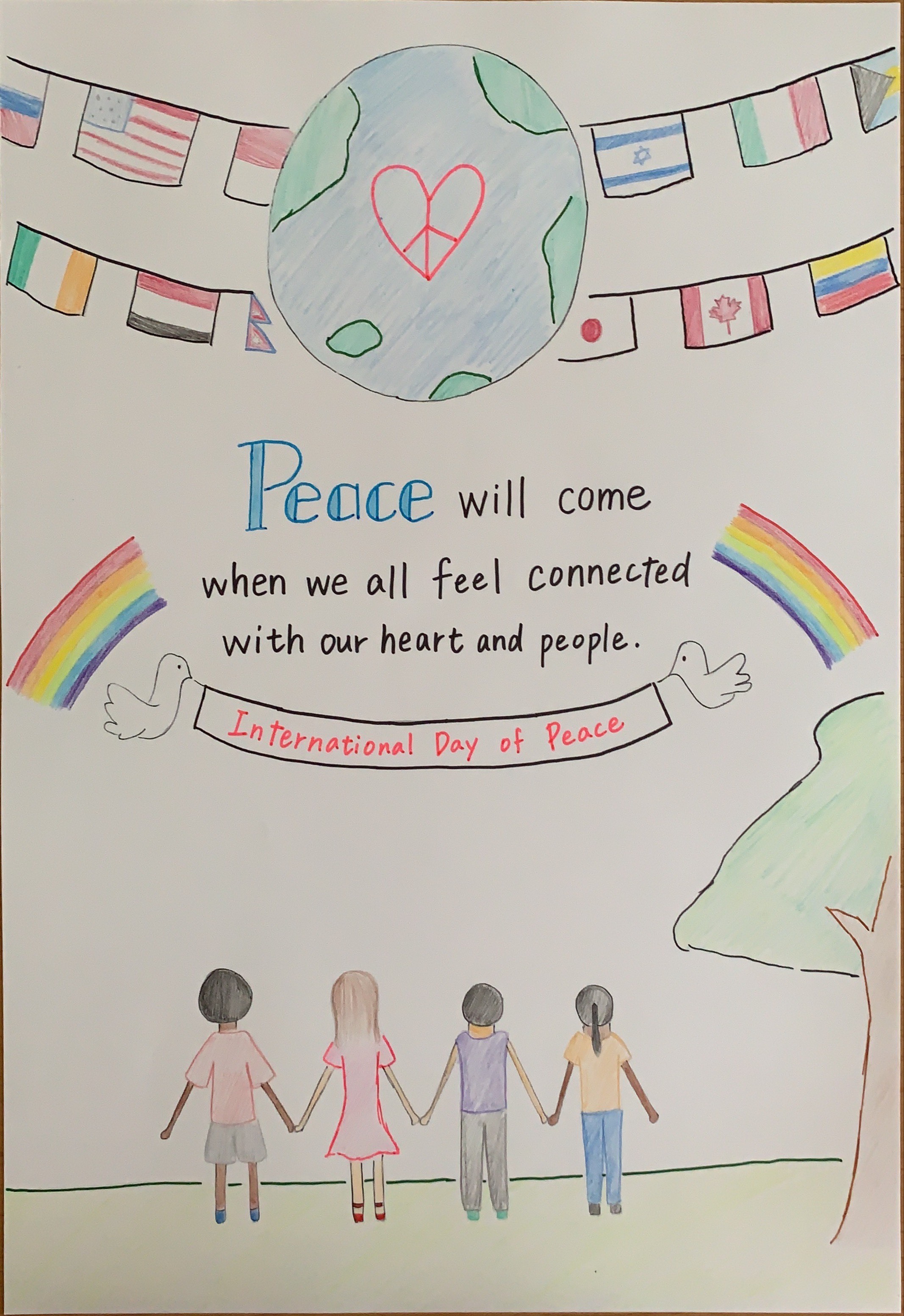 Tsukino Ohata
"I thought "connection" is important so I drew every kind of people holding hands to each other to describe it. And national flags are describing connection with countries. Also I put my own word "Peace will come when we all feel connected with our heart and people". Rainbow is the symbol of LGBTQ that I illustrated hope for gender equality. Earth with heart-shaped peace mark shows inner peace. I learned from Sri Chinmoy's poem that peace comes from inside but not outside. It shows a hope for peaceful world."


This poetry and story presentation is by eleven students from the class entitled Intercultural Communication at Gunma Prefectural Women's University, Japan, which is a member institution of the United Nations' Academic Impact.
To commemorate the United Nations' International Day of Peace, they told the story of Japan's Peace Bell at the United Nations Headquarters, which is used to 'ring in' the International Day of Peace. They also recited two poems by the Peace Run Founder Sri Chinmoy on the theme of peace.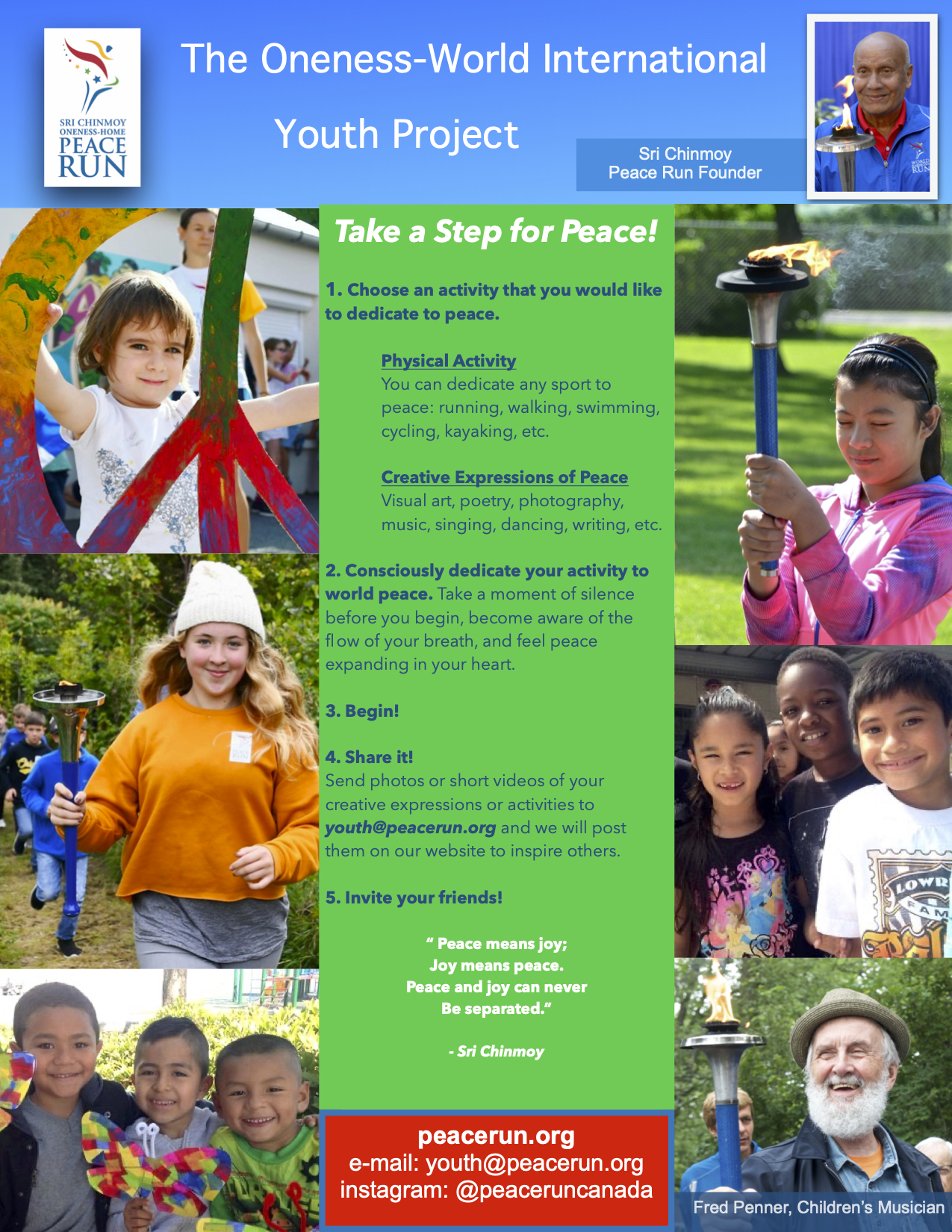 The motto of the Peace Run is "Peace Begins with Me," meaning we can all play a role in making our world a more harmonious place to live.

We would like to symbolically pass our Peace Torch to you by asking you to join this global event and participate right from where you are.


You will be joining thousands of others who have participated, including Nelson Mandela, Billie Jean King, Muhammad Ali, Mother Teresa, Elizabeth May, Fred Penner, and many, many children and young adults all over the world.
Now it is time to pass the Torch on to the next generation.
The Peace Run has become the longest-running and farthest-reaching torch relay run in the world. Since its inception in 1987, the Run has traversed over 150 nations and territories and touched the lives of millions of people. We estimate the Torch has been carried over 395,000 miles (632,000 km). As an awareness run, it does not seek to raise money or represent any religious or political cause. All are welcome to participate.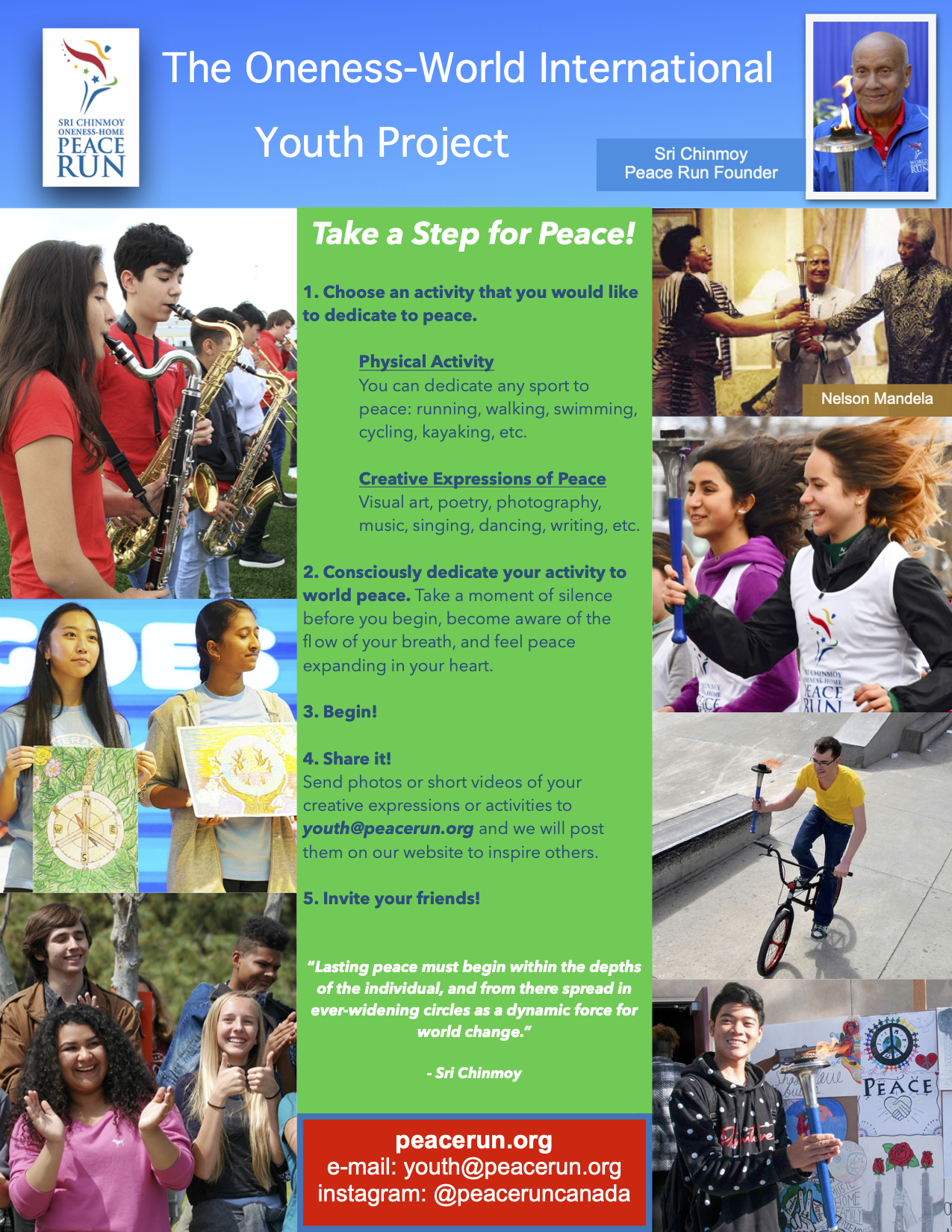 For more information, please download our letter of invitation HERE
Our brochures are downloadable here: Young Adults and Children
Please see our North American brochure HERE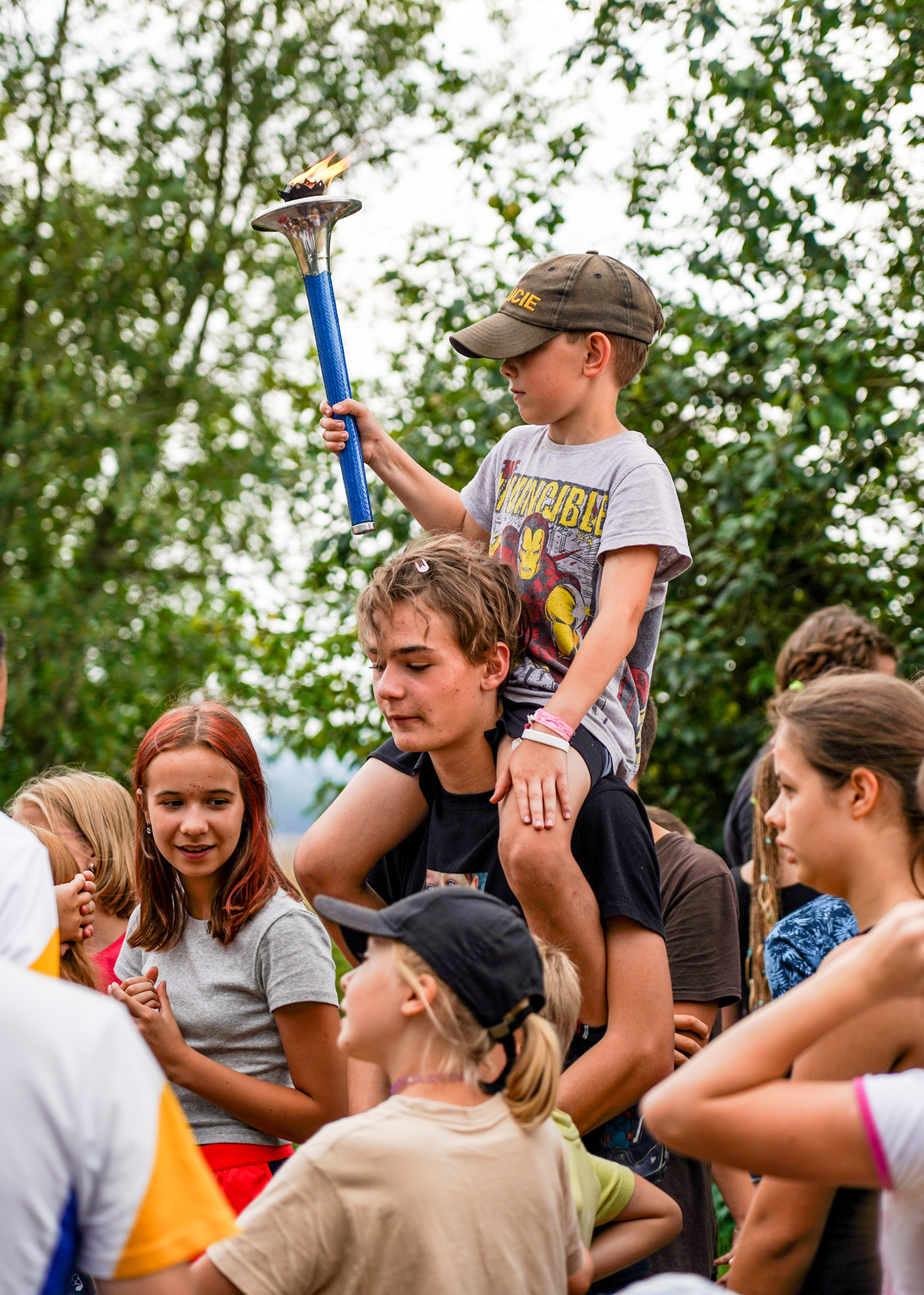 A photo taken at a Peace Run event in Czech Republic, 2020