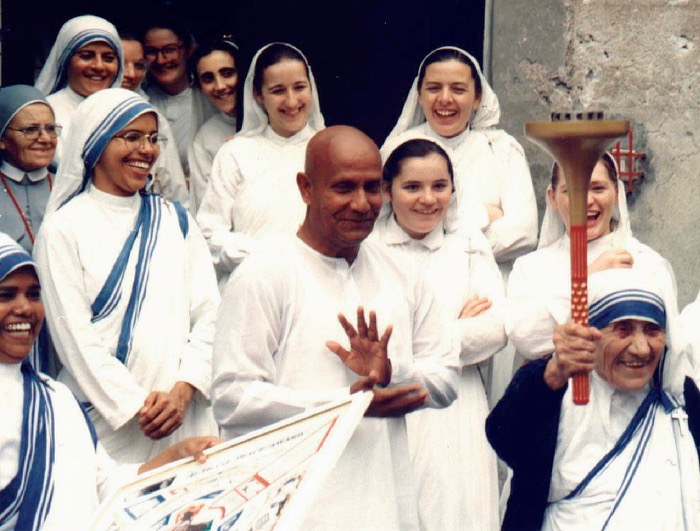 Mother Teresa was truly a living saint of our times and has been offically recognized as such. Her entire life was dedicated to serving God inside the poorest of the poor. She and Sri Chinmoy established an extremely close friendship. Both dreamed of washing away the sufferings and unhappiness of the world. Sri Chinmoy and his students worked with Mother Teresa on a number of medical projects that were dear to her heart and she fully supported his peace-oriented activities.
On 1 October 1994, in the courtyard of her Missionaries of Charity Home in Rome, Mother Teresa enthusiastically held aloft the Peace Torch, saying to Sri Chinmoy, "May we continue to work together and to share together, all the glory of God and for the good of man."
On July 14 1995, Peace Run Founder, Sri Chinmoy offered the following reflections on Mother Teresa. He said, "I am very, very, very fortunate that I was able to meet with Mother Teresa last year.  From my personal feeling I can say that she is both the Mother of compassion and the Sister of affection.  When I look at her heart, I see that it is all compassion.  When I look at her eyes, I see that they are all affection. She herself is the embodiment of both affection and compassion; these divine qualities inundate her inner being. I have the highest admiration and the deepest, deepest love for her.  If we had more Mother Teresas on earth, this world of ours would definitely be a world of compassion and a world of oneness. To me, Mother Teresa is a living saint."