Postoji mnogo načina na koje možete da uzmete učešće u Peace Run-u; ne morate da budete trkači! Na toliko mnogo načina možete da ponudite svoju iskrenu čežnju za mirom: kroz trčanje - naravno, ali takođe i tako što ćete upotrebiti svoje umetničke, kreativne ili organizacione sposobnosti.
---
Kako da nam se pridružite
Upoznajte tim trkača na putu  
Susretnite se sa timom na trasi i pridružite im se u duhu Trke. Energično ih pozdravite i mašite im dok trče pored vas ili se i sami uključite da biste stekli iskustvo trčanja sa Bakljom mira iz prve ruke. Obujte patike za trčanje i pomozite timu tako što ćete pretrčati određenu razdaljinu. To može biti 10 metara ili 10 kilometara, od vas zavisi. Samo, imajte na umu da se Peace Run nikad ne vraća unazad, pa se pobrinite da organizujete sebi prevoz do vaših kola ili do kuće kada završite sa trčanjem! (Mi nažalost ne možemo da vas vratimo našim vozilima u pratnji.)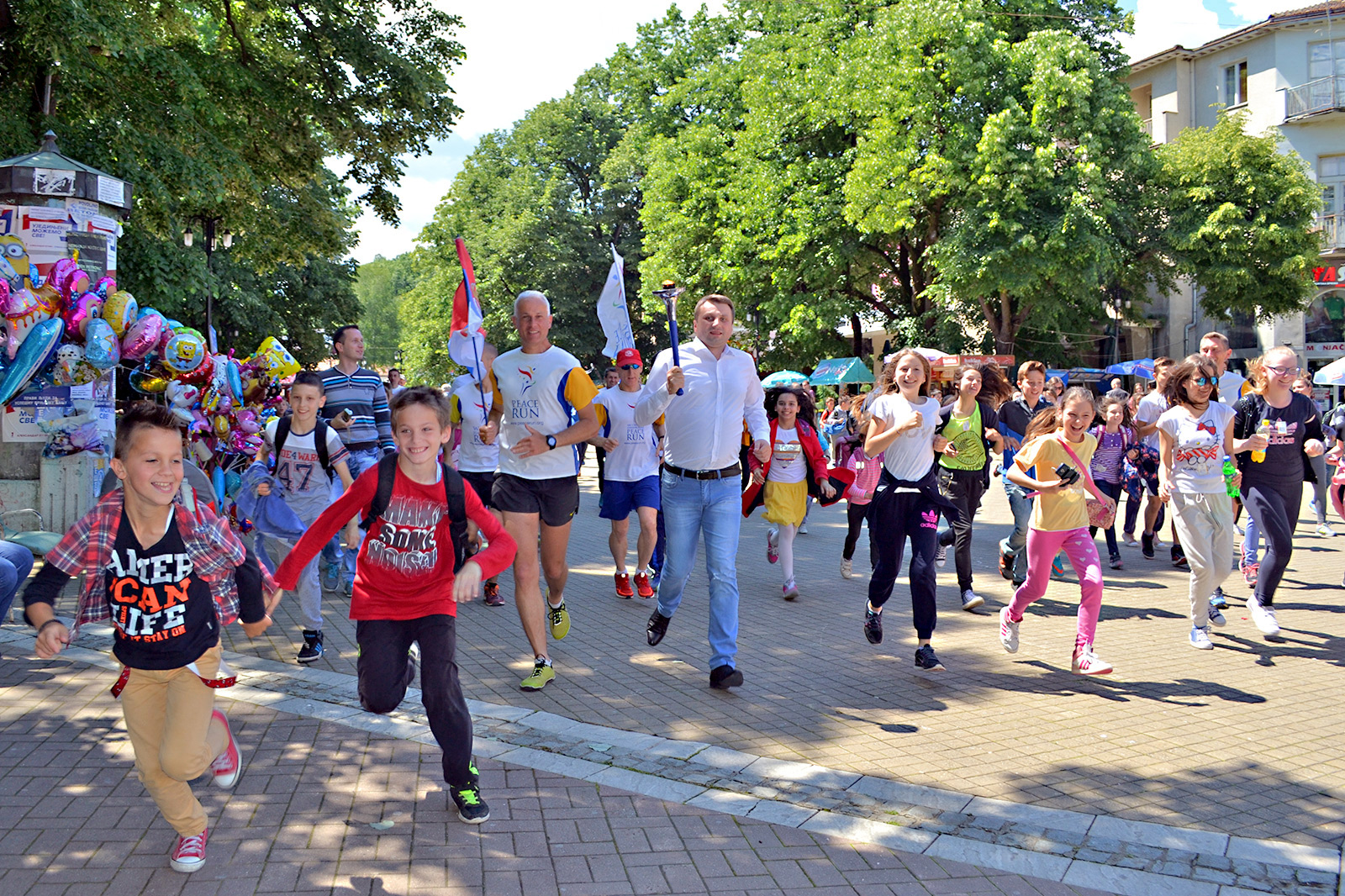 Svake druge godine velika trasa evropskog Peace Run-a prolazi kroz Srbiju. Pogledajte mapu naše trase da biste videli koliko blizu vašeg mesta dolazi trka, a onda nas kontaktirajte da biste saznali gde se trkači trenutno nalaze.
Proverite našu internet stranicu sa trasom i tačnom putanjom baklje da biste videli kada Peace Run prolazi kroz vašu oblast, a onda nas kontaktirajte na 069 27 13 249 da dobijete najsvežije informacije o trenutnoj poziciji trkača. 
---
Pozovite nas da trčimo sa vama
Ako u vašem gradu postoji neka škola ili omladinsko, sportsko ili neko drugo udruženje koje bi bilo voljno da nas pozove, mogli bismo da dođemo sa Bakljom mira i da podelimo ideale Trke mira sa vama!
I da znate, vaš grad ne mora da se nalazi na velikoj Trasi kojom trčimo. Mi organizujemo i mnoge jednokratne događaje koji nisu deo trase i koji mogu da se održe u bilo koje doba tokom godine. Takođe, širom sveta nas često pozivaju da učestvujemo u raznim velikim događajima.
Organizacione timove koji bi mogli da sarađuju sa vama i da dovedu Peace Run do vas imamo u nekoliko gradova u Srbiji - pogledajte kontakt stranu sa kompletnim spiskom.
---
Organizujte doček za tim Peace Run-a
Kada stignu u vaš grad, pokažite internacionalnim trkačima posebno gostoprimstvo vašeg grada. Proverite satnicu, pogledajte kada Trka dolazi u vaš grad. Izaberite najbolju lokaciju koju vaš grad može da ponudi, možda neki park ili neko poznato mesto, prostorije opštine ili gradske skupštine, crkvu od istorijskog značaja ili odličan kafić ili restoran, a mi ćemo sarađivati sa vama. Setite se da su trkači prilično gladni i žedni nakon tolikog trčanja! (Molimo vas da uzmete u obzir da je za Peace Run trkače neophodna mogućnost vegetarijanske ishrane i da je to strogo bezalkoholni događaj.) Zatim okupite nekoliko prijatelja, pozovite neke poznate i značajne ličnosti iz vašeg grada, svakoga kome se dopadaju ideali Peace Run-a, i na sopstveni način se zahvalite timu na naporima koje ulažu.
Stupite sa nama u kontakt da biste otkrili šta se možda već organizuje u vašoj oblasti, a onda se uključite, pridružite nam se i dajte vaš doprinos Peace Run-u.

---
Reportaža u medijima
Pozovite tim Peace Run-a u vaš poslovni prostor ili vašu organizaciju i pobrinite se da reporteri iz vaših lokalnih novina i vaše Televizije budu obavešteni i da dođu, da bi mogli da objave članak i vašu fotografiju na kojoj držite baklju sa timom Peace Run-a u vašim lokalnim novinama. Mi ćemo takođe pokriti sve organizovane dobrodošlice na našoj internet stranici, u delu sa dnevnim izveštajima sa trase. Jednostavno nas kontaktirajte na 069 2713 249 i zajedno ćemo učiniti da vaša ideja postane prikladan i uspešan medijski događaj.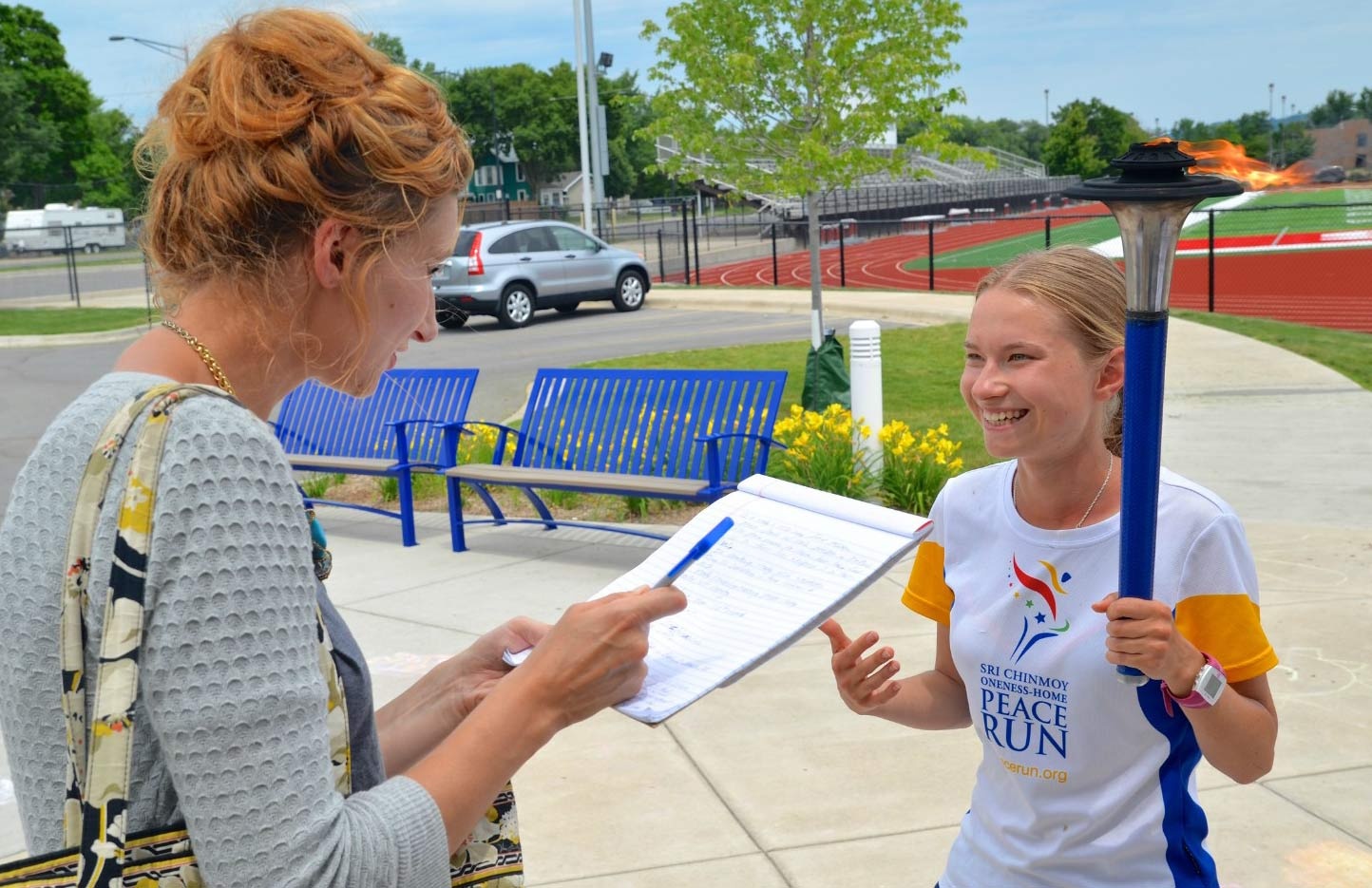 ---
Izvedite pesmu Peace Run-a!
Možda vi ili neko koga poznajete svirate u nekom sastavu, pevate u horu ili ste član školske muzičke grupe? Što ne biste iskomponovali neku pesmu i izveli je za tim Peace Run-a? Zamolite i druge da se uključe i da naprave kraći koncert. Samo budite kreativni, a onda nas kontaktirajte da odvojimo vreme, a vi obezbedite neki prostor u vašem gradu. To može biti neko sasvim jednostavno mesto kao što je vaša škola, glavna ulica ili prostor na otvorenom, pa čak i bina postavljena pored druma na nekom prikladnom i bezbednom mestu. (Molimo vas da proverite sa nadležnim organima da li postoje neka posebna pravila i zahtevi.) Ili, što ne biste snimili svoju pesmu o miru ili o trčanju i poslali je trkačima? Vaša inspiracija pomoćiće i trkačima da se inspirišu!
Poslušajte pesme koje je iskomponovao osnivač Peace Run-a, Šri Činmoj, za koje su aranžmane napravili muzičari, horovi, ansambli i bendovi širom sveta. Ove pesme pružaju mnogo radosti i smisla kada se izvode i stvaraju osećanje ujedinjenosti - upravo ono što nastojimo da podstreknemo kroz Trku mira.
Da li bi neko od muzičara koje poznajete voleo da napravi aranžmane i izvede ove pesme na nekom od događaja u vašem gradu?
Note ovih pesama možete da preuzmete na našoj internet strani Pesma na kojoj možete i da poslušate kreativne aranžmane koje su pravili i izvodili muzičari i deca širom sveta...
---
Stvarajte za mir
Izrazite svoje unutrašnje osećanje za bolji svet kroz poeziju, prozu ili neko umetničko delo.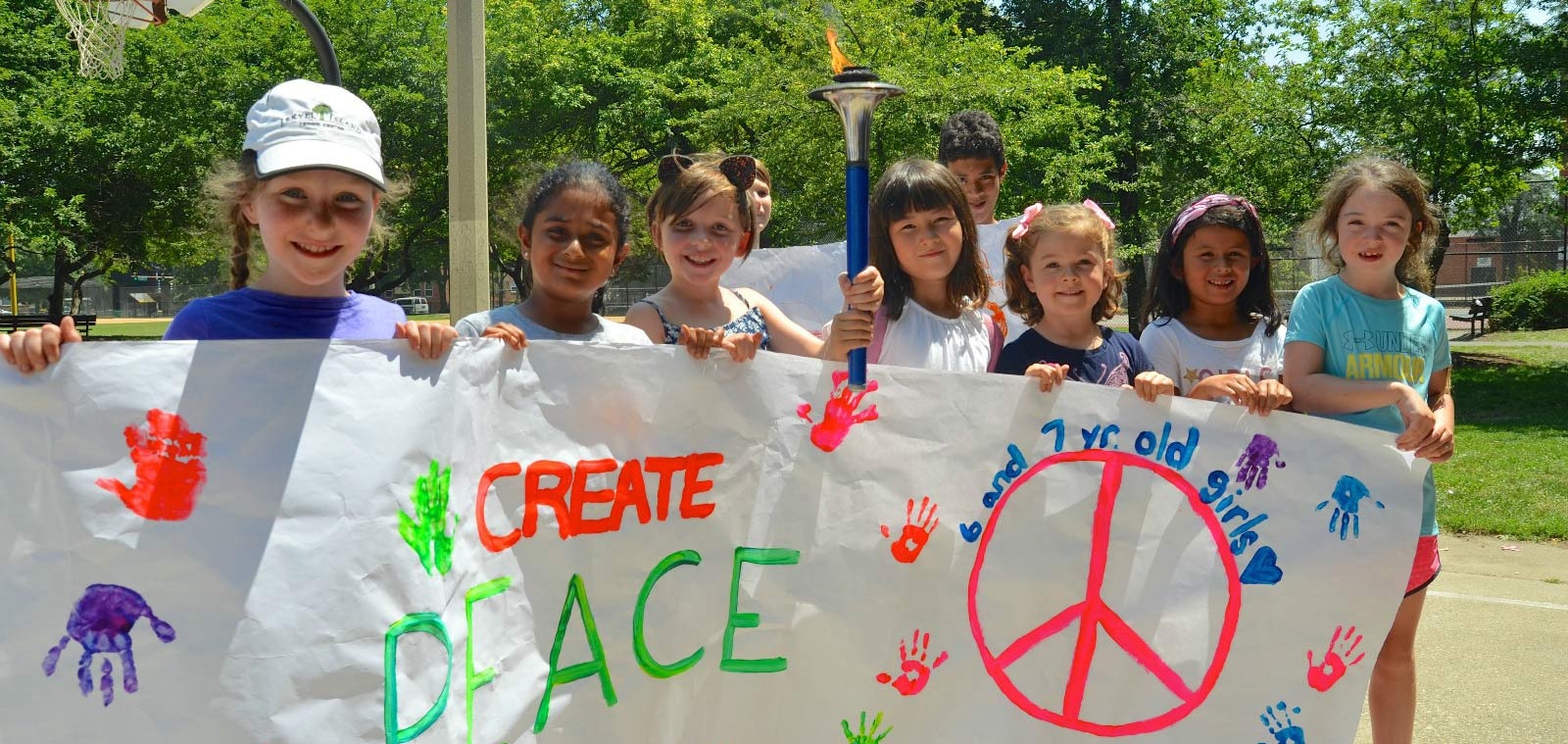 Neki od događaja koje pamtimo i koji su nam ostali najdraži bili su upravo oni kada smo svet kreativnosti spojili sa svetom sporta da bismo stvorili nešto jedinstveno. 
Postoji tako mnogo načina na koje možete da uzmete učešće. I baš kao što stremljenja čovečanstva ka miru nalaze svoj izraz na svim poljima ljudskog nastojanja, tako i vi možete da se uključite u Peace Run kroz muziku, slikarstvo i književnost ili upravo kroz trčanje.
Učestvovanje u Peace Run-u je besplatno i veoma je zabavno!