United States 21 July: Seattle
Nelson Madela International Day in Seattle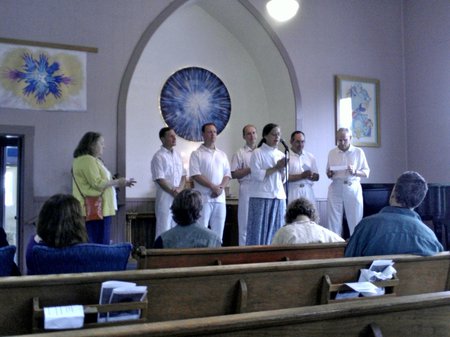 Members of the Seattle Sri Chinmoy Oneness-Home Peace Run participated in the interfaith ceremony on Sunday, July 21st at the kind invitation of the Seattle Interfaith Community Sanctuary by Sufi Leader Jamal Rahman.
The group briefly shared about Nelson Mandela's immortal service to the world as the new South Africa's first President. We also sang Sri Chinmoy's songs for and about President Mandela entitled, "A Perfect Justice-Voice", and recited four of Madiba's immortal utterances which Sri Chinmoy had set to music:
"You must vow to turn misfortunes into victory."
"Any man that tries to rob me of my dignity will lose."
"I am not truly free if I am taking away someone else's freedom."
"I dare not linger, for my long walk is not yet ended."
Then we read three poems by Sri Chinmoy on Madbia's most extraordinary contributions to humanity taken from his book on Madiba, "Nelson Mandela: The Pinnacle-Pillar of Mother Earth":
South Africans have now become
The blooming colours
Of his faith-heart-garden.
President Mandela's very name
Builds a hope-cathedral
In the heart of despair-flooded humanity.
Nelson Mandela:
The pinnacle-pillar
Of Mother Earth.