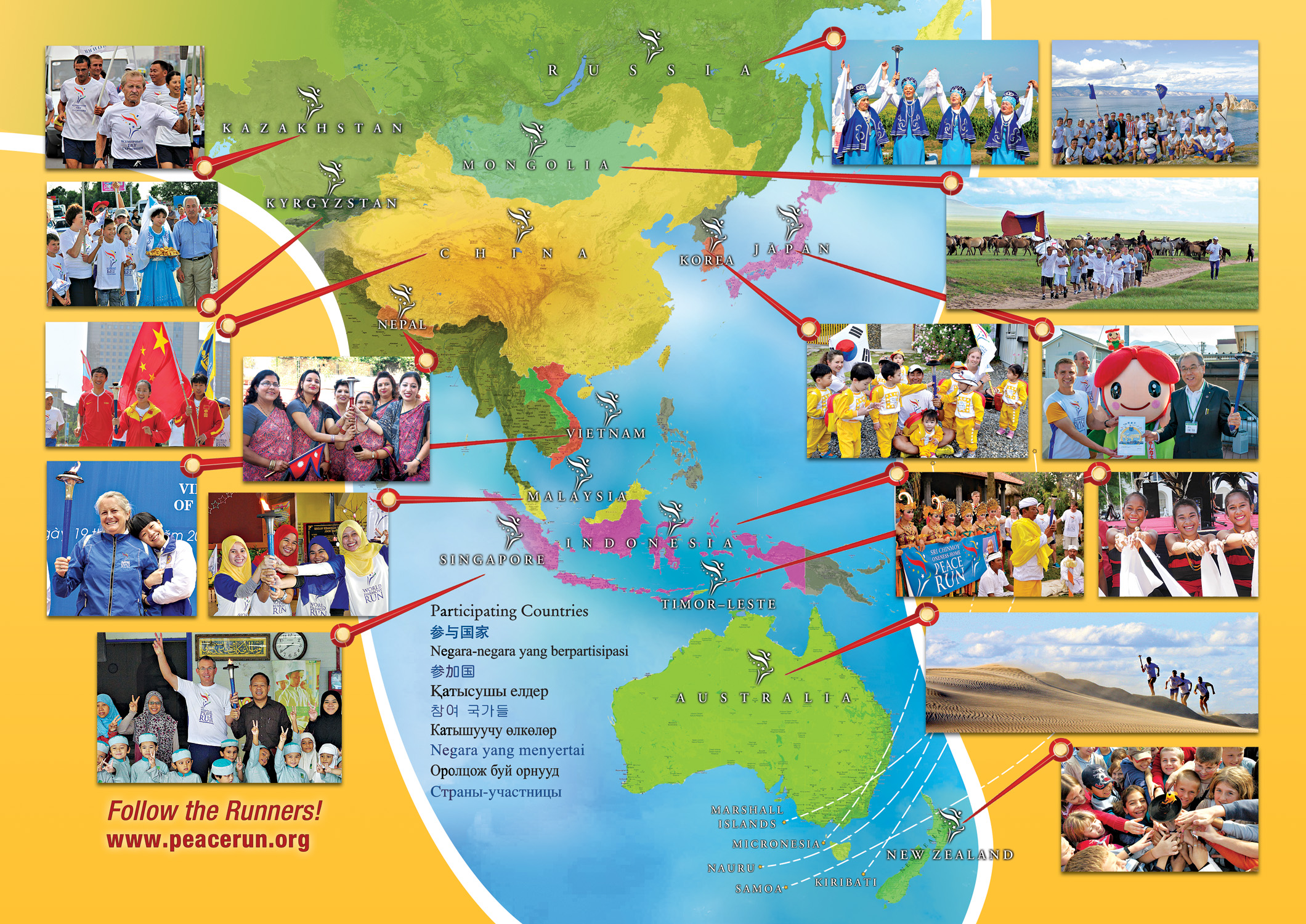 Welcome to the 4th Asia-Pacific Peace Run! We are connecting culturally and linguistically diverse countries and areas from north to south in the Asia-Pacific region, carrying and sharing the message of peace, harmony and friendship.

Many of the countries are rich in ancient cultures and spirituality, while others are filled with modern dynamism, still others have both abundantly.


Here are the upcoming events, starting from 13 May! If you are interested in participating in our events below, contact the Asia-Pacific coordinator at asia-pacific(at)peacerun.org (please replace (at) with @ when you type). You can also go to the website of the country of your interest and find out more about our recent events there. We look forward to meeting you and running with you in the near future!!

Participating Countries, 2016 (in the order of events)


Pacific Islands  13 - 23 May: Marshall Islands, Micronesia and Kiribati
~~This is going to be the Peace Run's first visits to these beautiful island nations.
New Zealand 23 – 29 May: Auckland, Hamilton and Taupo
Nepal 16 – 20 June [tentative]: Kathmandu, Bhaktapur and Lalitpur
Mongolia & China 2 June: China, then 3 - 27 June: from the eastern border to the western border of Mongolia via Ulaanbaatar
Russia East Route 20 June - 26 August: from Vladivostok, Irkutsk, Krasnoyarsk, Tomsk to Omsk
Kazakhstan & Kyrgyzstan 10 July - 26 August: Almaty, Bishkek, Astana then meet with the Russian team in Omsk
Australia 5 - 17 September: Through Central Victorian Goldfields and Gariwerd National Park, to finish in Melbourne
Timor-Leste 17 - 22 September [tentative] : Dili
Indonesia 23 - 30 September [tentative]: Bali, other cities TBA
Korea 19 – 26 September: Jeju Island

Japan 29 September– 6 October [tentative]: route TBA


Our first events of the year: 
Malaysia & Singapore 22 January & 29 – 30 January: Penang, Johor Bahru, and Singapore
were full of joy, thanks to all the local and international participants! Please visit and enjoy our News from Malaysia and Singapore with lots of photos! Enjoy also a nice video capturing some highlights of the events.