Australia
In 2019, for the first time the Sri Chinmoy Oneness-Home Peace Run will encircle the entire globe in a calendar year, bringing the Peace Torch to every country of the Southern Hemisphere. Starting and finishing in Bali, the Torch has travelled to Timor Leste, Papua New Guinea, Solomon Islands and Vanuatu before continuing its Australian journey in Brisbane on 12 February, following an inland route through central NSW, the ACT and Victoria and finishing in Melbourne on 1 March. From Melbourne, the Torch flew to New Zealand, other Pacific Island Nations, South America, Africa and the Indian Ocean Islands before returning to Bali in November.
In Australia, further local events will continue in Brisbane, Sydney, Canberra, Melbourne and Adelaide between June and November. You are warmly invited to share your peace-hopes and peace-dreams, by running with the Peace Torch, participating in a reception or meeting along the way, or offering your hearts' goodwill.
We look forward to welcoming your involvement in the Sri Chinmoy Oneness-Home Peace Run in Australia for 2019.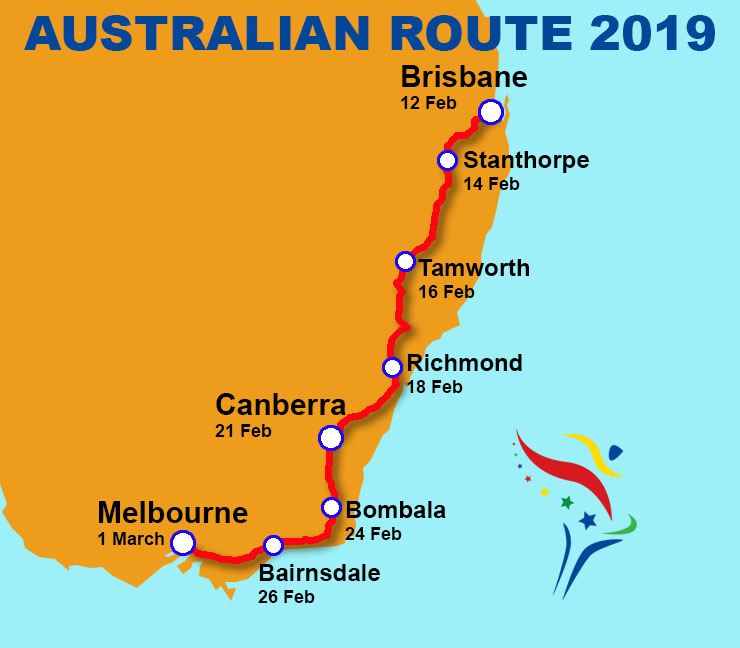 | | |
| --- | --- |
| | Be part of the Peace Run in your area. |
---
| | |
| --- | --- |
| | Some great ideas for teaching young people about peace. |
---
| | |
| --- | --- |
| | The official song for the event composed by the Run's founder Sri Chinmoy. |
---
| | |
| --- | --- |
| | A photo gallery of our last run around the continent. |
---
| | |
| --- | --- |
| | Many notable people have held the torch and offered their good wishes. |
---
| | |
| --- | --- |
| | A special award given to people of inspiration. |
---