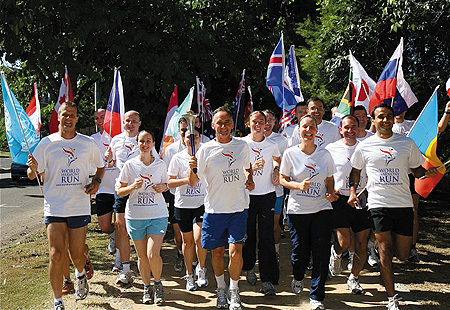 There are many ways you can participate in the Peace Run.
Here are a few suggestions –
| | |
| --- | --- |
| Meet the running team on the road and join in the spirit of the Run. Give them a big cheer and a wave as they run by, or join in yourself for some first hand experience of running with the Torch. Pull on your running shoes and give the team a hand while you complete your own mileage. From 100 metres to 10 km, its up to you.  Just remember the Peace Run never stops or turns back so make sure you have organised a way back to your car or town after you have finished running! (Unfortunately we can't take you back in our support vehicles.) Check out the Itinerary page to see when the Peace Run is passing through your area, then call 0406 058 369 for latest up to date information on the current location of the runners. | |
Organise a welcoming event for the Peace Run team when they come to your town. Show the international runners your town's local Aussie hospitality. Work with us and choose the best location your town has to offer, maybe a park or famous landmark, council chambers or town hall, historic church or a great cafe or restaurant. Remember all that running makes the runners pretty hungry and thirsty! (Please consider the Peace Run requires vegetarian food options, and is strictly an alcohol-free event). Get a few friends together, invite some of your town's local celebrities or VIPs, anyone who likes the ideals of the Peace Run and thank the team in your own way for their efforts.
Contact us to find out what might already have been organised in your area, then get involved, come along and add your contribution to the Peace Run.
The Peace Run appreciates publicity so invite the Peace Run team to your business or organisation and make sure your local newspaper reporter knows about it and comes along, so they can include an article and photo of you with the Peace Run team holding the famous torch, in the next edition of your local community newspaper. We'll also cover all welcoming events on our website in the daily report section for more coverage. Simply contact us on 0406 058 369 and together we can make your idea into a successful media event.

Maybe you or someone you know plays in a band, sings in a choir or school music group? Why not write a song and perform it for the Peace Run team? Ask others to be involved and make it into a short concert. Just get creative, then contact us to make a time and organise a venue in your town. It could be as simple as in your school hall, main street, or an open venue, even setting up beside the road in an appropriate and safe location. (Please check your local authorities for any necessary regulations and requirements.) Or why not record your song about Peace or Running and then send it to the runners. Yoru inspiration will help inspire the runners!
There are so many ways to participate and just as humanity's yearning for peace finds expression in every field of human endeavour, so also your participation in the Peace Run can be through music, art or writing, as well as running. Participation in the Peace Run is free and it's fun. 
Please contact us to get started!