Australian Patrons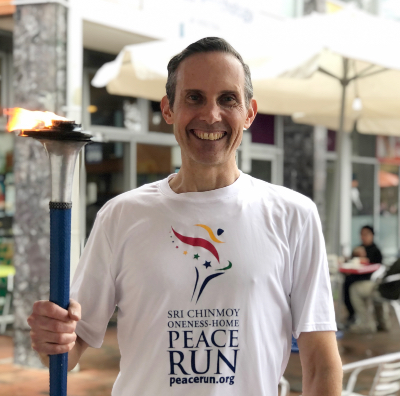 Dr Andrew Leigh, MP, the ACT Patron of the Peace Run for 2023 is Member of Parliament for Fenner (ACT), and  Assistant Minister for Competition, Charities and Treasury.
An active runner, Andrew recently completed all 6 of the World Marathon Majors – London, Berlin, New York, Boston, Chicago and Tokyo marathons – running each in under 3 hours in support of the Indigenous Marathon Project. In 2022, Andrew completed two major personal goals, completing a 100 km Trail Run and a 10km lake swim, both organised by the Sri Chinmoy Marathon Team in Canberra.
---

Mayor of South Perth, Patron of the 2015 Peace Run in Western Australia
Sue Doherty has been Mayor of South Perth, Western Australia, since 2011. South Perth is a beautiful and vibrant inner suburb of Perth, bounded on three sides by the Swan and Canning Rivers. It is home to some 45,000 people. Sue has actively participated in many Peace Run events over the years and was thrilled to be invited to be the patron of the 2015 run through Western Australia's South-West.
---

Senator for the ACT, and former ACT Chief Minister
"As ACT Patron of the Sri Chinmoy Oneness-Home Peace Run, I am delighted to be able to support this inspirational event, which has spread a message of peace and goodwill across Australia and the world for many years." more..

---

Wildlife conservationists
"We all cherish the idea of a world where peace and happiness pervade within each one of us. It is imperative that we all work together and make the world one big global family. We believe the Peace Run is one such event that inspires us to particpate and bring about this change." more...
---
Kunmanara Randall
Respected Indigenous Elder
---

Robert de Castella
Champion marathon runner
---
Australian Supporters
Many prominent Australians have held the torch and supported the event since it began in 1987. Here is a selection.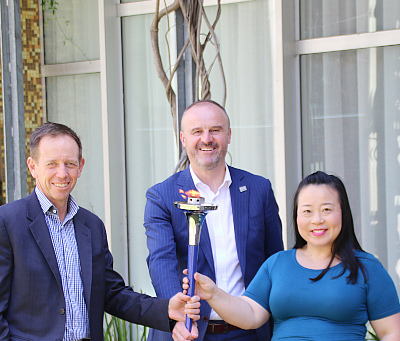 Leader of the ACT Greens and Attorney General, Shane Rattenbury; ACT Chief Minister and Leader of the ALP, Andrew Barr; and Leader of the Opposition and Leader of the ACT Liberals, Elizabeth Lee, come together to share the Peace Torch at the ACT Legislative Assembly, Canberra.
---

Former Prime Minister of Australia
"I wish I could be there running alongside you for part of the journey from Uluru to Canberra.
Australia is a free, fair and multicultural society. It is a beacon of hope for the rest of the world.
As a nation, we have found unity in our diversity and respect in our differences. Together, we have built a modern nation on the idea that anyone can get ahead provided they are prepared to "have a go".
I congratulate the organisers, participants and supporters of this year's Peace Run. May you have a safe and enjoyable event."
---

Julia Gillard
Former Prime Minister of Australia
---

Alan Border
Legendary Cricketer
---

James Morrison
Master Trumpeter
---

Cathy Freeman
Olympic 400m Champion
---

Mandawuy Yunupingu
Musician, Yothu Yindi
---

Mal Meninga
Rugby League legend
---

Sally Pearson
2012 Olympic Gold Medallist (100m hurdles)
---

Prof. Fiona Wood
Clinical Professor at University of WA and former Australian of the Year
---

Steve Hooker
Former World, Olympic and Commonwealth Pole Vault Champion