As canções Peace Run e a World Harmony Run foram compostas pelo fundador da Peace Run Sri Chinmoy. Apesar de sermos corredores, não cantores profissionais, nós adoramos cantar estas canções tão alegres - elas ajudam verdadeiramente a injetar nos nossos eventos o espiríto da Peace Run.
Sente-te livre para criar novos arranjos musicais e apresenta-os para dar as boas vindas à equipa quando chegarem à tua escola ou evento!
A canção Peace Run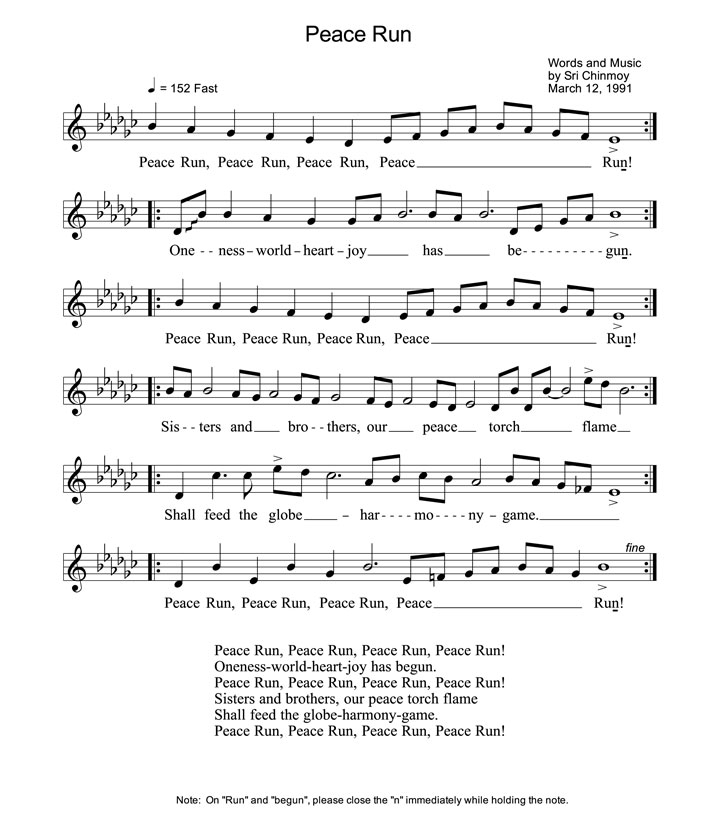 A canção da Peace Run  foi composta por Sri Chinmoy em 1991. Para nós, os corredores, esta canção personifica o espiríto da corrida: unicidade, alegria e harmonia entre todas as pessoas do mundo, vivendo como uma grande família.
---
A canção da World Harmony
Esta canção foi composta por Sri Chinmoy em 2005. E como podes ver, são apenas duas linhas, muito  cativantes que as crianças adoram cantar connosco. Ao longo dos anos, temos desenvolvido uma série de movimentos de coreografia que acompanham esta canção, desta forma as crianças podem imaginar que estão a correr com a equipa.
O audio acima é o primeiro arranjo musical feito para esta canção World Harmony Run, quase imediatamente após ter sido composta. Sri Chinmoy sugeriu que juntássemos algo mais, como o assobio, para tornar a canção ainda mais alegre.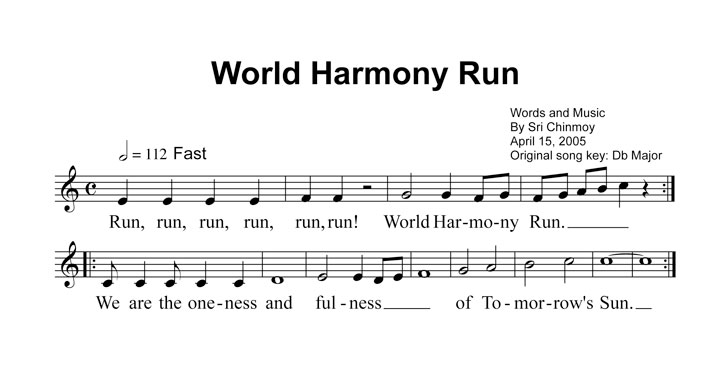 ---
Arranjos
Aqui encontras alguns dos arranjos das nossas canções Peace Run e World Harmony Run ao longo dos anos - talvez isso te dê algumas ideias!
Alunos no Burundi
Ouve os estudantes africanos do Burundi apresentando harmonias fantásticas ao cantar o seu próprio arranjo da canção da Peace Run.
O coro de Nova Iorque Housing Authority Youth 
Arranjo da canção World Harmony Run composta por  Sri Chinmoy e apresentada no lançamento internacional da corrida, em Nova Iorque.
Peace Run Medley
Arranjo musical composto por  Paree Atkin e apresentado por um coro que inclui muitos do nossos corredores da Peace Run. Este é um medley das canções Peace Run e world Harmony Run compostas por  Sri Chinmoy e uma homenagem ao tema original da Peace Run criado por Michael Walden's  (consulta abaixo).
Arranjo Instrumental - Violino, Viola, Violoncelo
Um arranjo musical clássico da canção de Sri Chinmoy, a Peace Run, composto por Shamita Achenbach de Viena e apresentado pelos seus familiares, todos eles grandes figuras musicais!
---
Mais canções sobre paz!
Tema original da Peace Run 
Esta canção foi composta em 1987 - ano em que começou a Peace Run - pelo galardoado com o prémio  Grammy, como compositor e produtor Narada Michael Walden (Na foto ele recebe a Tocha e a medalha Torch-Bearer award). Até Sri Chinmoy compor a canção da Peace Run em 1991, usávamos esta como o hino da  Peace Run.
Mais canções compostas por by Sri Chinmoy sobre o tema da paz.
Para além da duas canções acima, Sri Chinmoy compôs muitas outras belas canções sobre paz que foram alvo de arranjos musicais para coros, como é o exemplo destas duas canções - A New World of Peace and A Moment's Truth.
Esta apresentação da canção, A Moment's Truth, foi criada pelo músico autríaco Parichayaka Hammerl.