We are eagerly anticipating the start of the 2016 Malta and Gozo Peace Run. The Ministry of Education and the Malta Tourism Authority greatly supported the 2016 run.
---
Torch-Bearer Award
As we journey across the country and around the world invariably we come into contact with some remarkable people who have inspired their communities, their cities and nations through their own lives and deeds. The presence of the Peace Run and torch creates an opportunity to recognise these remarkable people. 
National recipients...
Xandru Grech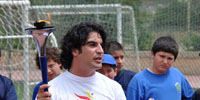 Since the Peace Run 2001 Xandru Grech selflessly served as an Ambassador for the Run in Malta. His untiring work with children, teenagers and adults as a coach and friend is outstanding. His positive attitude inspires all of us and his enthusiasm to do good in the world and in his own backyard is infectious. We feel he gives and gives for the betterment of the world.
Read more about our recipients all over the world....