Der Peace Run Song und der World Harmony Run Song wurden von Sri Chinmoy, dem Gründer des Peace Runs komponiert. Obwohl wir Läufer und keine professionellen Sänger sind, lieben wir es, diese fröhlichen Lieder zu verwenden - sie tragen wirklich dazu bei, unsere Veranstaltungen mit dem Geist des Peace Runs zu erfüllen.
Sie können diese Lieder gerne arrangieren und vortragen, um die Läufer zu begrüßen, wenn Sie an ihre Schule ankommen oder bei ihrer Veranstaltung teilnehmen!
Der Peace Run Song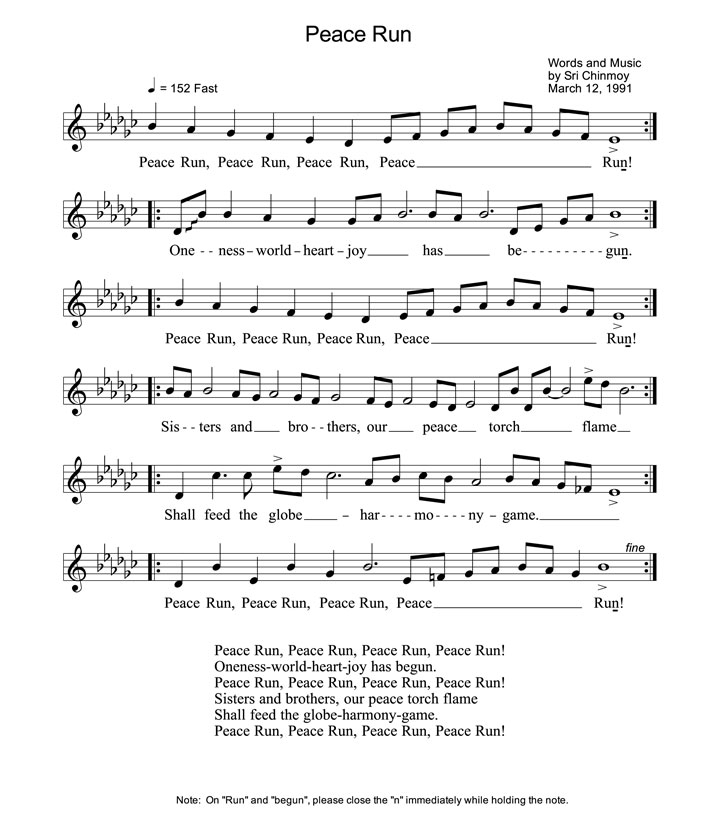 Der Peace Run Song wurde 1991 von Sri Chinmoy komponiert. Für uns, die Läufer, verkörpert dieses Lied den Geist des Laufs: Einssein, Freude, Frieden zwischen allen Menschen auf der Welt, die eine große Familie sind.
---
World Harmony Run Song
Die obige Audioaufnahme ist das allererste Arrangement des World Harmony Run Songs, das unmittelbar, nachdem es komponiert worden war, entstanden ist. Sri Chinmoy schlug vor, ein paar Dinge hinzuzufügen, wie z.B. das Pfeifen, um das Arrangement freudiger und kraftvoller zu machen.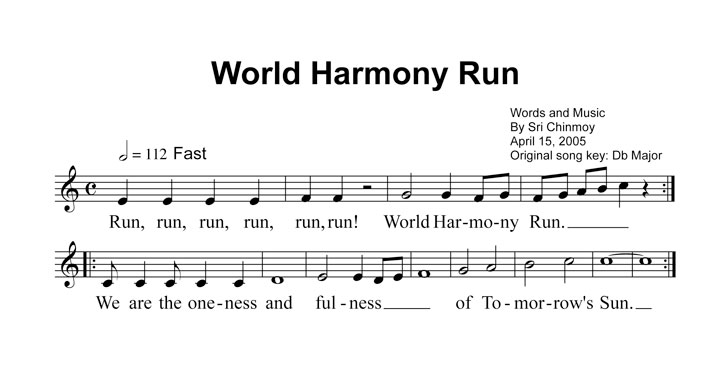 ---
Arrangements
Zur Inspiration finden sie im Folgenden einige der Arrangements unseres Peace Run- und World Harmony Run-Songs, die im Laufe der Jahre gemacht wurden.
Studenten in Burundi
Hören sie sich an, wie Schüler im afrikanischen Burundi ihre Arrangements des Peace Run Songs mit erstaunlichen Harmonien singen.
NYC Housing Authority Jugendchor
Arrangement des von Sri Chinmoy komponierten World Harmony Run-Songs, das beim weltweiten Start des Laufs in New York aufgeführt wurde.
Peace Run Medley
Arrangiert von Paree Atkin und vorgetragen von einem Chor, dem viele unserer Friedensläufer angehören, ist dies ein Medley des von Sri Chinmoy komponierten Peace Run- und World Harmony Run-Songs sowie eine Hommage an Narada Michael Waldens ursprüngliche Peace Run-Hymne (siehe unten).
Instrumentales Arrangement - Violine, Viola, Cello
Ein klassisches Arrangement von Sri Chinmoys Peace Run Song, arrangiert von Shamita Achenbach aus Wien und gespielt von ihrer Familie, die alle musikalische Genies sind.
---
Mehr Friedenslieder!
Original Peace Run-Hymne
Dieses Lied wurde 1987 - dem Jahr, in dem der Peace Run begann - vom Grammy-Preisträger und Produzenten Narada Michael Walden komponiert (hier mit der Fackel und seiner Auszeichnung als Fackelträger). Bevor Sri Chinmoy 1991 das Lied zum Peace Run komponierte, benutzten wir dieses Lied als Hymne des Peace Runs.
Weitere Lieder zum Thema Frieden von Sri Chinmoy
Neben den beiden oben genannten Liedern komponierte Sri Chinmoy viele weitere schöne Lieder zum Thema Frieden, die für Gesang und Chor arrangiert wurden, wie zum Beispiel diese beiden Lieder - A New World of Peace and A Moment's Truth.
Diese Aufführung von A Moment's Truth wurde von dem  österreichischen Musiker Parichayaka Hammerl arrangiert.