Belgrade, Serbia, on July 7th 2010, we were honored to present Prof. Dr. Slavica Đjukić Dejanović, the Speaker of Parliament, with the Torch Bearer Award for her efforts to promote the ideals of friendship and harmony in the Serbian Parliament as well as to spread them in cooperation with neighboring countries.
On this ocasion the Speaker gavea a very inspiring speech at a reception for the World Harmony International Team in the Parliament of Serbia
An excerpt of  the remarks are provided below:
"The year 2010, proclaimed as The Year of the Rapprochement of Cultures
by UN and UNESCO provides significant opportunity to show that dialogue
and understanding among different world cultures are of great
importance.
"The World Harmony Run provides all its participants with an
opportunity to get an experience of different cultures, in order to
develop appreciation of diversity through art, culture and sport.
"This project is the true contribution towards achieving more peace and
prosperity in the world, which would serve as a basis to build the
foundation of Peace and Harmony."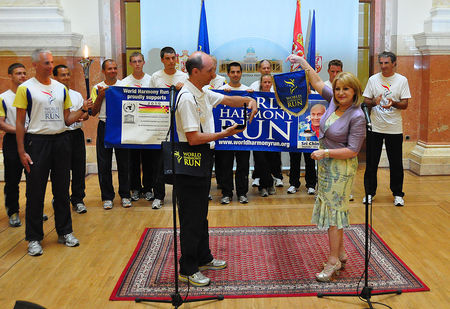 After a welcome speech she received a special emblem with a flag of parliament on one side and the WHR flag on the other...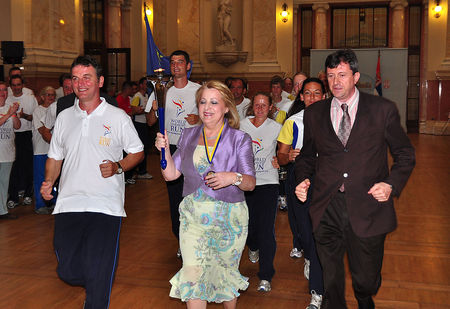 ...a few steps for peace in the Parliament...