Canada 1 July: Lethbridge, AB
Canada Day Messages for Peace
Happy Canada Day!
This was to be a unique year for the North American route -- July 1st would be celebrated in Alberta, Canada and July 4th would be celebrated in Montana, USA. The Peace Run Team always uses July 1st as an opportunity to share the Peace Torch with as many Canadians as possible. Holding the torch, people silently reflect on what peace means to them and some are moved to express a message out loud. This year, we are symbolically passing the torch to friends of the Peace Run and Canadians of inspiration who have generously and eloquently expressed their heartfelt dreams and hopes for peace to be shared here.
First, we have a powerful song; "Let's Give Peace a Chance" courtesy of Ann Mortifee and The Gettin' Higher Choir.
Ann Mortifee received the Torch-Bearer Award in 2016 in Victoria, BC.
Fred Penner, beloved musician and children's entertainer, offers a video greeting.
In 2018, Fred Penner received the Torch-Bearer Award in Winnipeg, MB.
Heather Rankin - of the multi-platinum selling musical group The Rankin Family - offers her reflections on Canada Day.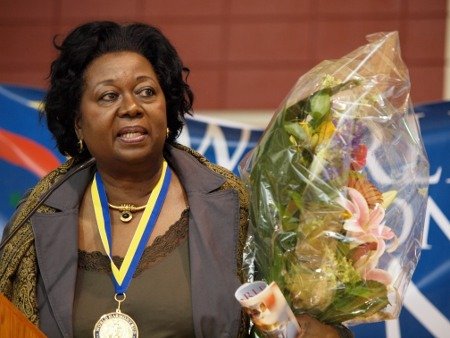 "We are in challenging times which call on all of us to reflect and focus our attention on what each of us can do to make our world a better place. Sri Chinmoy and the Peace Run, involving so many in over 100 countries, speaks to his legacy and deep interest in world peace. To the organizers, runners and walkers doing this virtual Peace Run, my thoughts are with you. Go Canada!!!"
- The Honourable Jean Augustine, PC CM OOnt CBE
The Hon. Jean Augustine was presented with the Torch-Bearer Award in 2010 in Toronto, ON. She is the first Black Canadian woman to be elected to the Parliament of Canada as well as the first Black Canadian to occupy the Speaker's Chair in the Canadian House of Commons. She became Ontario's first Fairness Commissioner and established the Jean Augustine Centre for Young Women's Empowerment.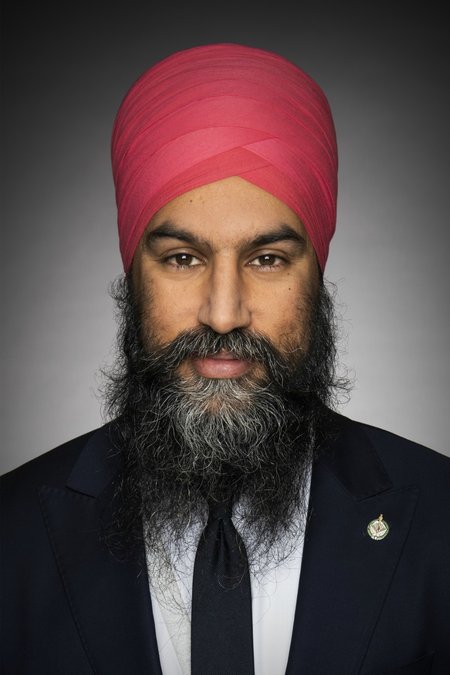 "Every day, people's lives are disrupted by hate, racism, conflict and war – with many having to leave their homes, and others enduring trauma, violence, and loss.
Peace is a necessary foundation for people to build their lives, and for countries around the world to work together to make life better for people.
On Canada Day, let's take the time to ask ourselves what peace means to us and commit to building a stronger foundation for greater peace in our communities."
-Jagmeet Singh
Leader, New Democratic Party of Canada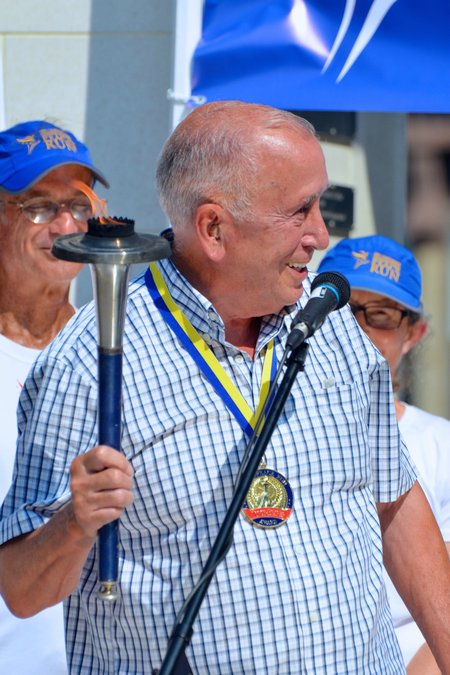 "Peace among Nations will happen when we accept that all of Mother Earth's people are entitled to be respected and accorded the utmost dignity. No one should be ostracized and demonized because they have outlooks contrary to yours and are from cultures that are different than yours. If you open your mind and learn about the differences of others you will find a gold mine of wonderful discovery!"
-Mi'kmaw Saqmawiey (Eldering) (Dr.) Daniel N. Paul, C.M., O.N.S., LLD, DLIT
Dr. Daniel Paul received the Torch-Bearer Award in Halifax, NS in 2018.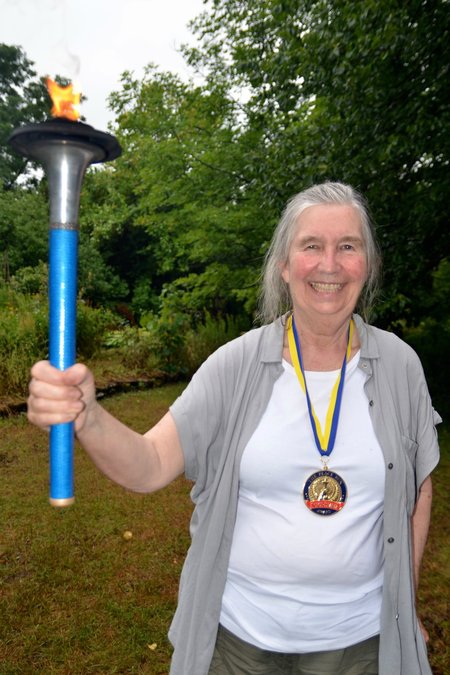 "Peace is the powerhouse of the human race. It holds a whisper of the divine."
- Diana Beresford-Kroeger, internationally renowned visionary, naturalist, botanist, and author.
Diana was presented with the Torch-Bearer Award in 2018 at her home in Ontario.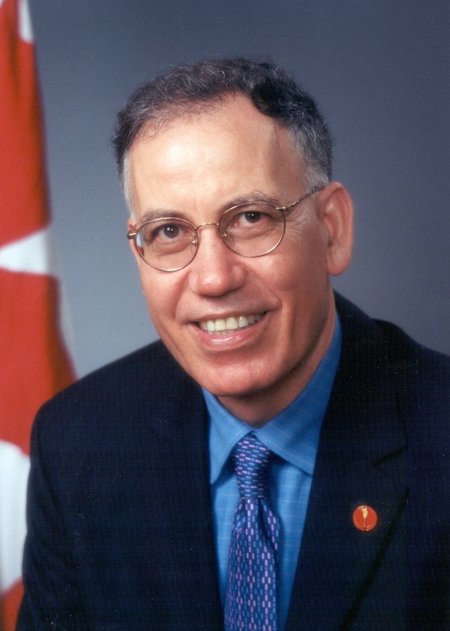 "I applaud you and the late Sri Chinmoy for keeping the Peace Run tradition alive. It's an honour to participate in this brave space with you again. Sri Chinmoy once said that "Lasting peace must begin within the depths of the individual …". He and his powerful words remind us that the core of peace begins in ourselves. Our hearts and minds are given the duty and entrustment to make peace, beginning in our own lives and infiltrating into the lives of those around us. We have a responsibility to strive for peace, to protect and engage in the safekeeping of our planet, in the same way that we have a responsibility to care for our communities. The Peace Run, at its essence, reminds us of the importance and continual marathon towards world peace. A place where we can have a deep appreciation for our differences and similarities. A place where we can breathe in the knowledge that us, and generations to come, can grow in a world that is accepting and encouraging. I urge you all to continue this quest towards nourishment for love in our world, and within yourselves. Your work is inspirational."
- The Honourable Mac Harb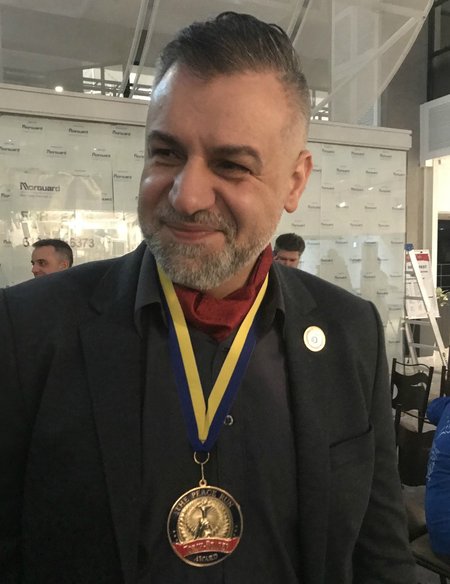 "The pandemic slows us down to reflect on the interconnection between us as citizens of the world, on the delicate balance of our coexistence with the nature and the essence of being. When there's a rainforest fire in the Amazon, the whole world gets affected sooner or later. When the epidemic starts somewhere on the other side of the globe, we can make some efforts to help contain its spread. When a war bursts out in another country, we can all take action and contribute to stop the crime on humanity. These unprecedented times call for unprecedented global solidarity as we are all in it together. Extending a helping hand is helping ourselves in the long run. And only love and peace will stay."
- Dr. Jamal Alsharif, founder of Humans for Peace Institution
Dr. Alsarif was presented with the Torch-Bearer Award in February 2020 in Ottawa, ON.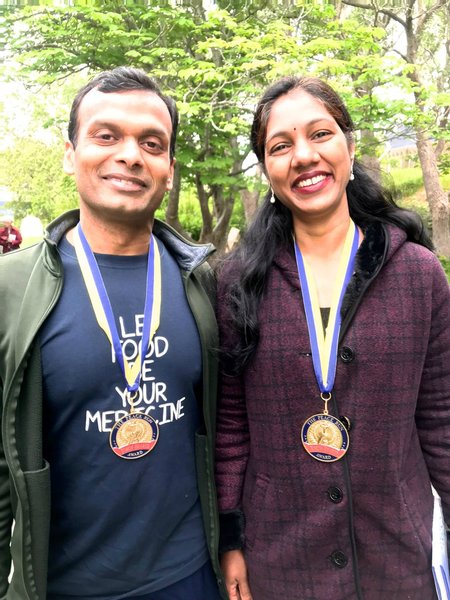 "Peace, joy, health, love and happiness are our natural states. That is how we come into this world. What gets in the way of us being healthy and happy is sickness and stress. As doctors, we have observed that more than 80% of our diseases, including chronic conditions and mental health issues, are due to poor diet and lifestyle choices. If we want to have excellent health and inner peace, it is vital to focus on eating healthy, learn healthy ways to cope with stress, be more physically active, spend time in nature and invest in building healthy, loving relationships. Medical research shows that these simple steps are more crucial for our health and well being than the medications and surgeries. We cannot bring or establish a peaceful world without taking care of ourselves. We know that deep inside your heart that you want to have a healthy, happy and peaceful world. The best way to make it happen is by starting with ourselves by caring for our health and inner peace and becoming the change we wish to see in our friends, family members, and communities."
- Dr. Arjun Rayapudi and Dr. Shobha Rayapudi, Founders of The Gift of Health
The Torch-Bearer Award was presented to Drs. Arjun and Shobha Rayapudi in 2019 in St. John's, Newfoundland.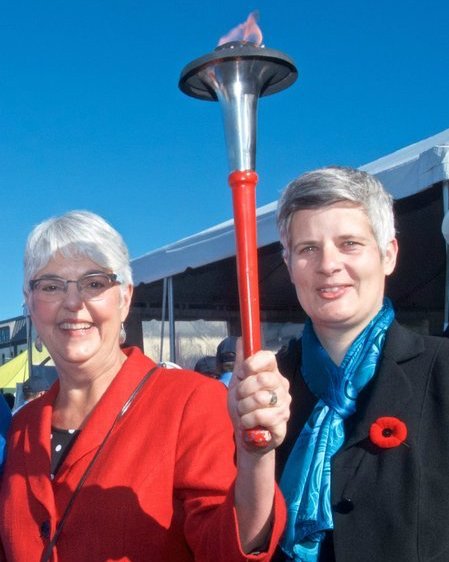 "It is my pleasure to embrace the sentiment of the Sri Chinmoy Oneness-Home Peace Run. During these difficult times we are reminded of the importance of peaceful coexistence and human connection. Although the run will not take place this year, we must carry the theme of lasting peace with us as we work towards a brighter future."
- Lisa Helps, Mayor of Victoria
(Pictured right, alongside The Honourable Carole James, in 2017)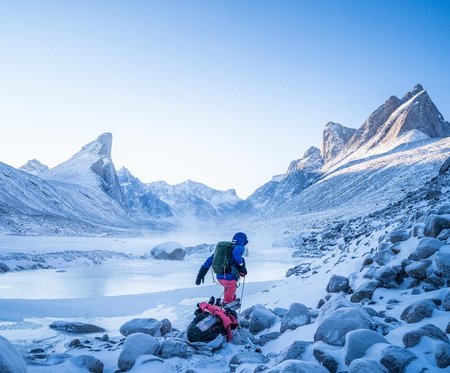 "Our greatest ability as humans is that in times of challenge, we come together....come together to overcome immense obstacles that seem impossible, and accomplish what we set out to do."
- Ray Zahab, founder of impossible2Possible
The Torch-Bearer Award was presented to Ray Zahab in 2010 in Ottawa, ON.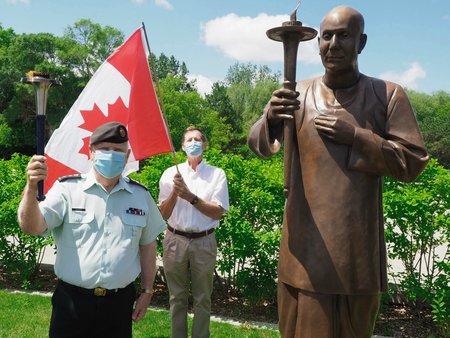 Colonel (Hon.) Chevalier Gerrard Austin Nudds, KGCStG, held the torch at the Peace Park of The Canadian Museum of Indian Civilization and Vishnu Mandir Temple of Richmond Hill.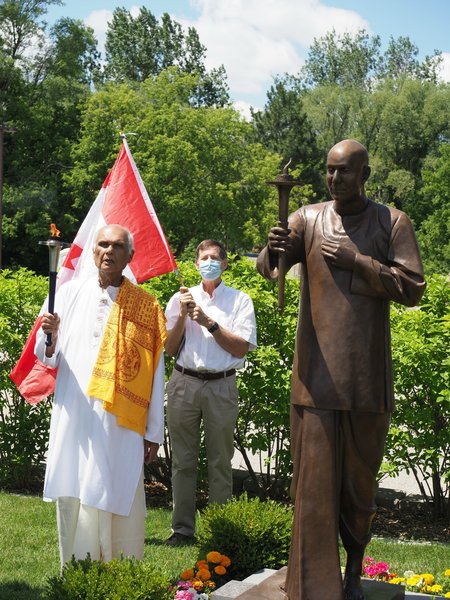 "Leaders of today should practice and respect all life by "simple living and compassionate thinking". It is incumbent that world organisations such as the United Nations, where Sri Chinmoy was highly respected, be guided by the Gandhian Principles of Peace and Non Violence, and, as the Dalai Lama has said, by the motto "Peace is the Only Way." In this spirit, the Voice of Vedas community and I commend the Peace Run runners for keeping the Peace Torch flame burning with their worldwide virtual running program during this difficult period of pandemic."
- Dr. Budhendra Doobay, Chairman, Voice of the Vedas, Richmond Hill
Dr. Doobay was the first South Asian to receive The Order of Ontario. He has also been awarded The Queen Elizabeth Golden and Diamond Jubilee Medals.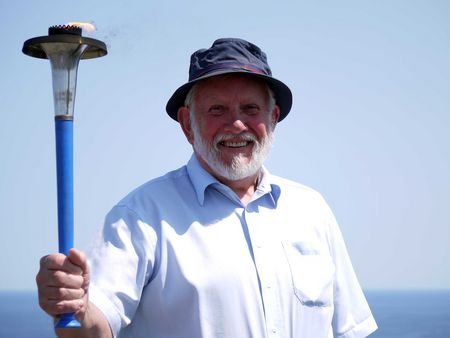 "Eight years ago, in 2012, the Peace Run was held in St John's, Newfoundland. I had the pleasure of making my car available (with me as chauffeur) for taxi service to and from Signal Hill, as well as Cape Spear, the most easterly point in North America, for the Peace Run team that came here. This year, of course, the covid crisis has affected the Peace Run as it has affected almost everything else in our lives, and the 2020 Peace Run will be a virtual run. I send all my own good thoughts and good wishes to all those who will be taking part in it."
- The Reverend Canon Dr. David Bell
Peace Runners in Toronto collected some messages from locals on this unique Canada Day.
First is Ruby, owner of Qalat, a beautiful shop selling Moroccan rugs and art on Bathurst Street.
Second is Michelle Morgan, owner of Annex Arts Centre in Toronto.
Third we have Lisa Hill (right) and Barbara-Anne Patterson (left) from Hill's Florist, Bloor Street, Toronto
Last but not least is 9-year old Liam Morison.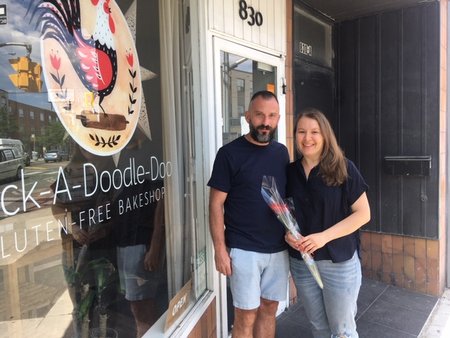 "For us peace means the smiles of our children, knowing that people we love are healthy and well. Love, kindness and respect. Even at the bakery we know we are doing something good that brings other people happiness, makes their life a bit easier. All this brings peace and inner harmony to us and helps us move forward."
- Yuliya and Dennis Makarenko, owners of Cock-a-Doodle-Doo Gluten Free Bakery in Toronto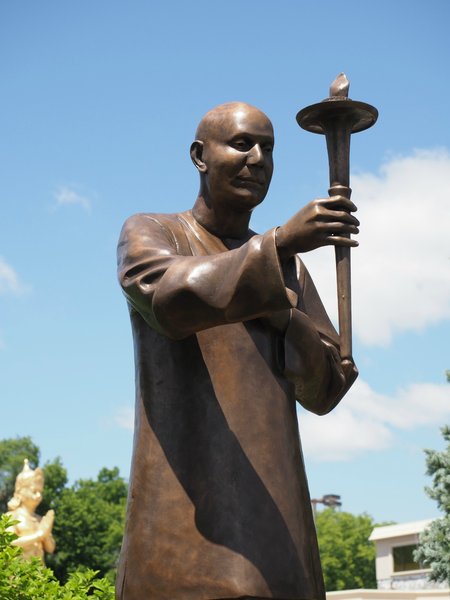 Our sincere gratitude to all those who offered messages of peace this Canada Day. We leave you with a quote from the founder of the Peace Run:
"Lasting peace must begin within the depths of the individual, and from there spread in ever-widening circles as a dynamic force for world change."
-Sri Chinmoy