Estes são apenas alguns dos momentos mais importantes que ao longo dos anos, tivemos a felicidade de experienciar...
2020
No inicío do ano, o Presidente de Portugal, Marcelo Rebelo de Sousa, de forma muito graciosa acolheu a equipa no Palácio de Belém para o lançamento da rota europea da Peace Run, que estava planeada durar 7 meses e com um trajeto de 18,000 km. (Devido à pandemia tivemos que parar algumas semanas depois)
2019
Peace Run no Hemisfério Sul - Uma fantástica jornada que deu a volta ao globo numa rota contínua. Visitámos todos os 44 países e capitais no hemisfério sul. Mais...

Sri Chinmoy Semana da Paz: Uma semana inteira repleta de uma cornucópia de eventos em Palermo, Itália, dedicada à paz: exibições de arte, concertos, poesia, palestras - e claro a Peace Run a fazer a ligação entre todos. Mais...
Colours of Peace (As cores da Paz): Já na segunda edição, desenhos de crianças de todo o mundo foram exibidas na fachada do Coliseu em Roma. Esta cerimónia foi partihada  internacionalmente através de mais de 700 artigos publicados pelos meios de comunicação social. Mais...
USA: Seattle também acolheu pela primeira vez a exposição Colors of Peace.  Mais de 1300 trabalhos foram exibidos envolvendo 11 escolas de Seattle e 200 desenhos da coleção internacional de Roma, Itália. Entre os presentes estavam 14 membros do Washington State Consular Corp em representação dos seus países de origem e representantes de 3 departamentos do Congresso dos Estados Unidos. Mais...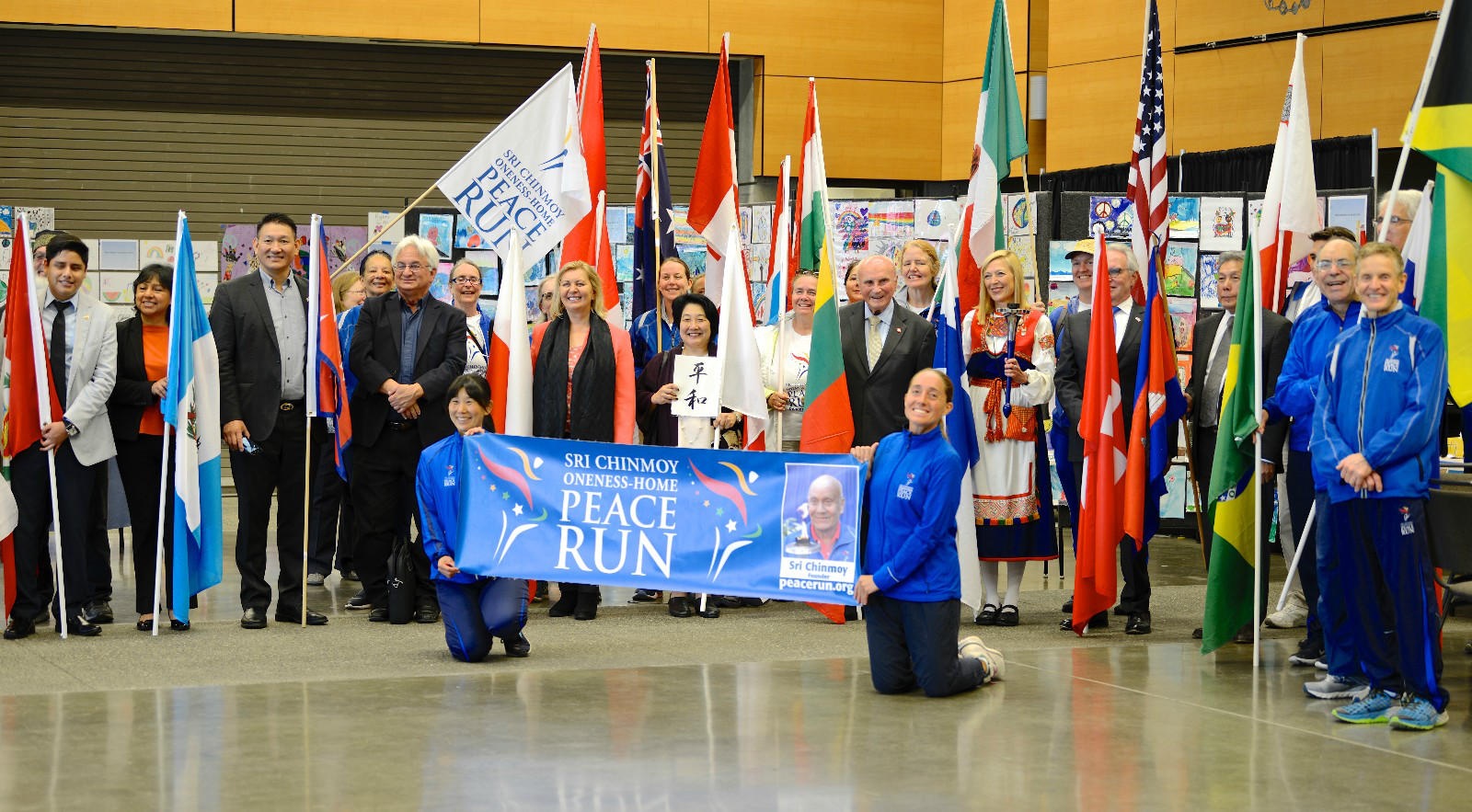 2017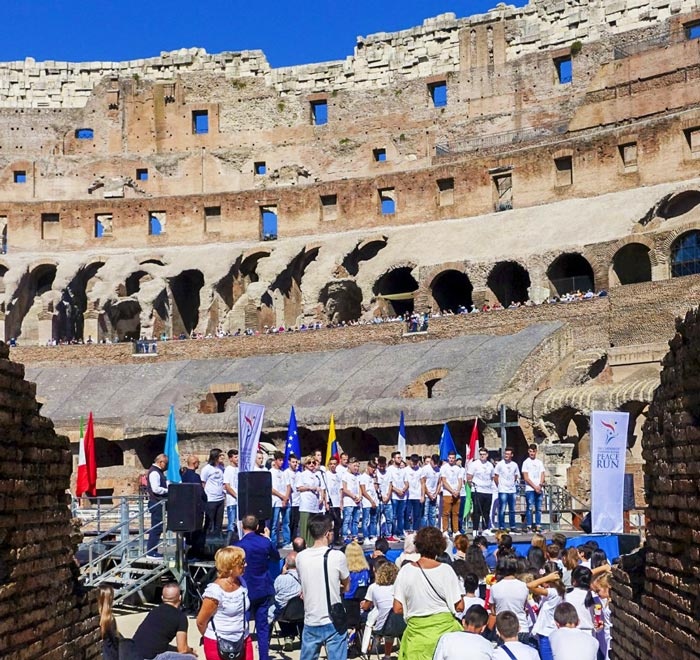 Colours of Peace: Desenhos de Paz feitos por crianças de todo o mundo foram exibidos para o público à volta do Coliseu em Roma. Este evento foi organizado pela Peace Run, com a colaboração e apoio de vários departamentos do governo italiano.
Este evento decorreu no dia 21 de Setembro, a fim de coincidir com o dia declarado pelas Nações Unidas como o Dia Internacional da Paz. No total, 7,000 desenhos de paz de crianças de 39 países estiveram em exposição no Coliseu.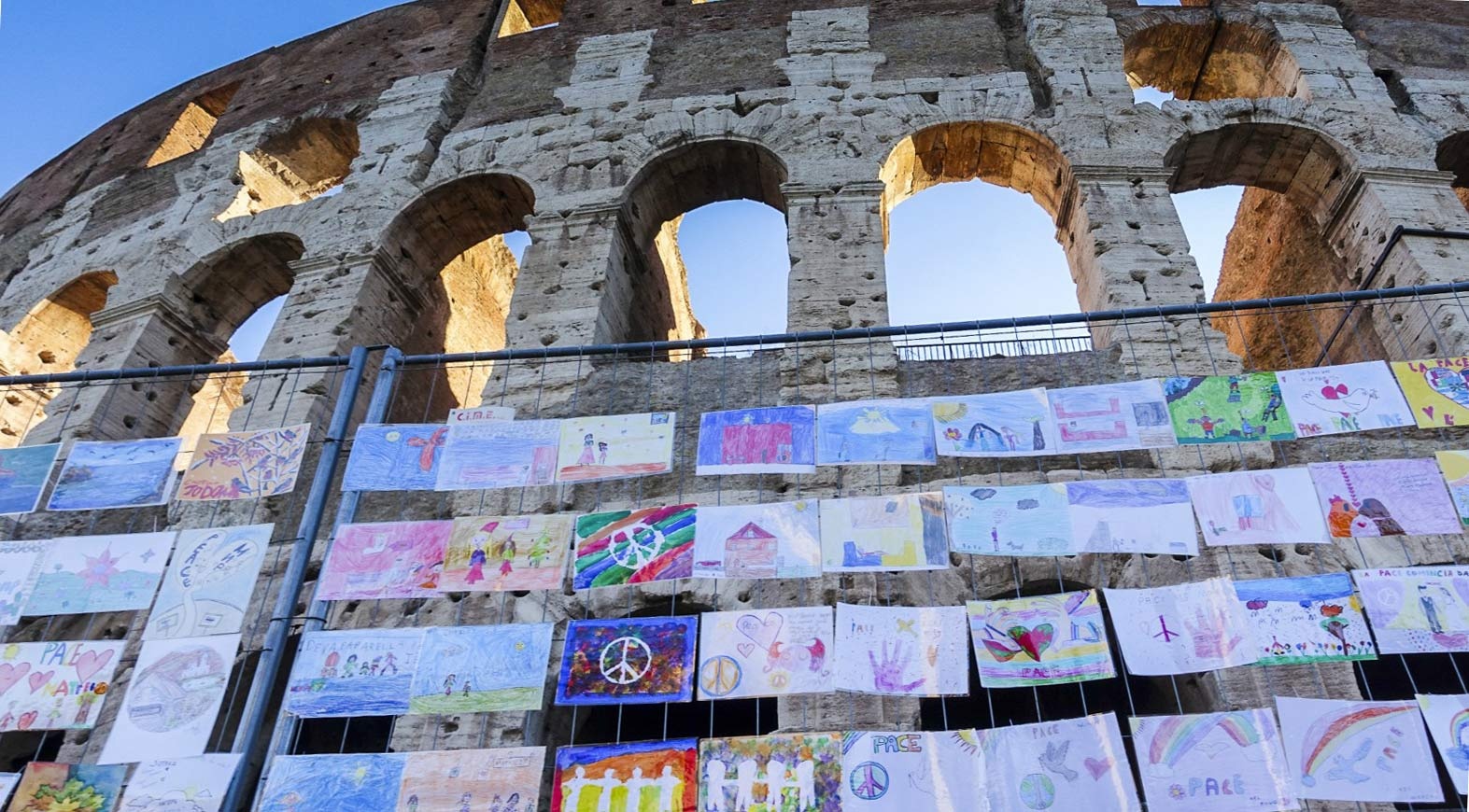 2016
O Papa Francisco abençoa a Tocha da Paz na Praça de São Pedro, em Roma.
2014
A Tocha da paz é apresentada no Parlamento Europeu, sendo recebida pelo Presidente do Parlamento.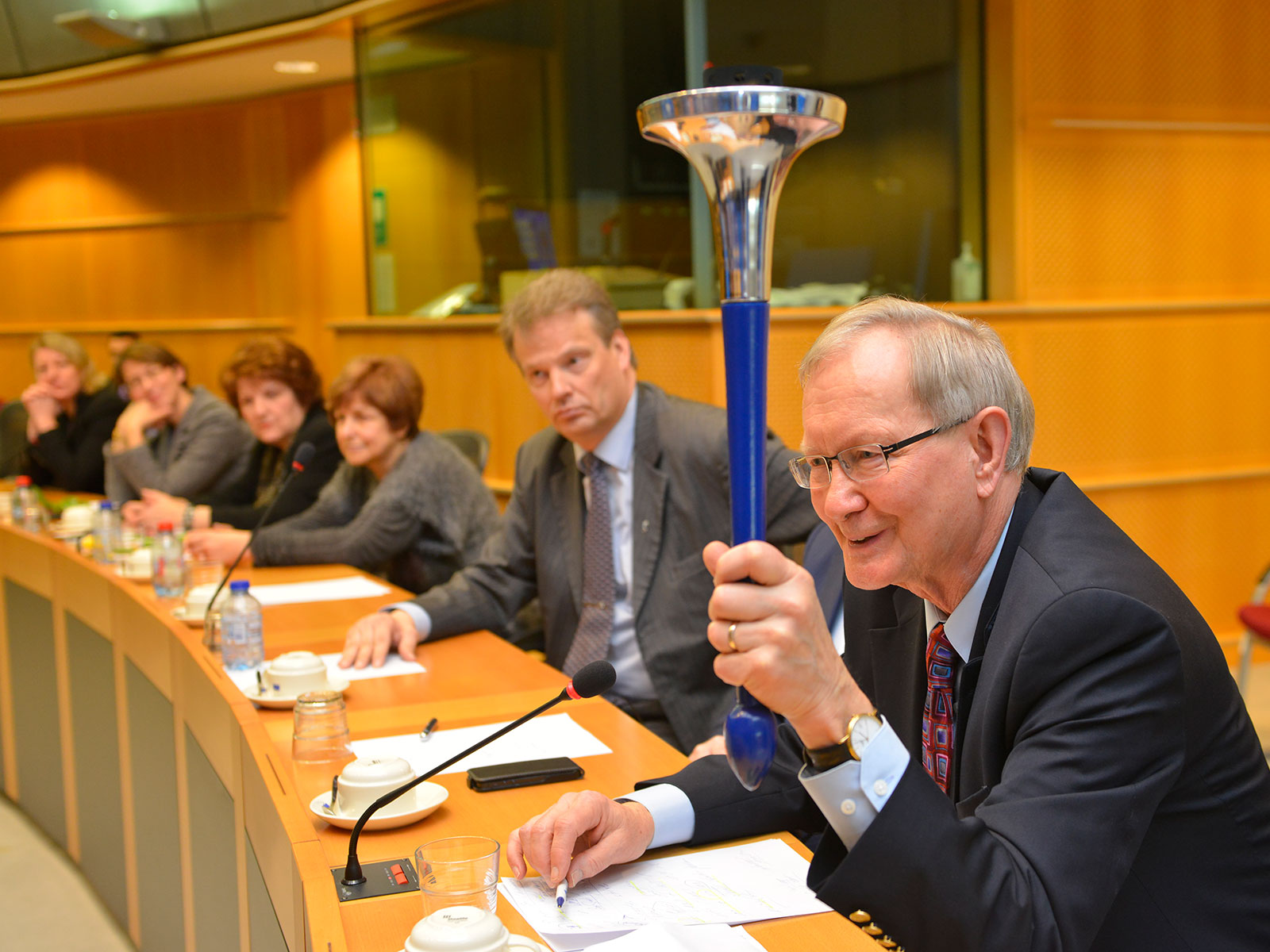 2013
A 8 de Fevereiro fomos recebidos por toda a comitiva do governo de Timor‐Leste, que recebeu a Tocha e inaugurou a estátua de Sri Chinmoy presente na entrada do Parlamento Nacional.
2012
A cerimónia Moment's of Peace decorreu em Londres para marcar o jogos Olímpicos de 2012.
O Dr. Nebojsa Stefanovic,  porta-voz do Parlamento Sérvio, deu as boas vindas oficiais à equipa internacional, no Parlamento Nacional em Belgrado.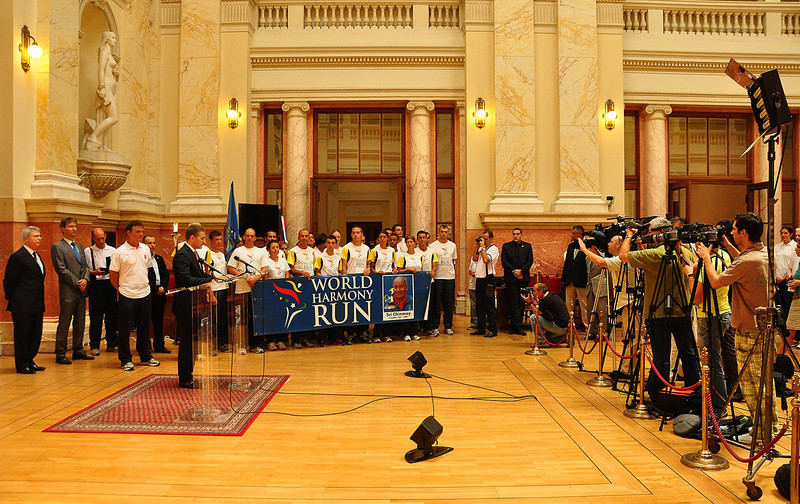 2011
O Presidente da Conferência Geral da UNESCO Dr. Davidson Hepburn oferece uma mensagem para a celebração dos 25 anos da corrida e uma visão para a década seguinte de 2012 até 2022 e mais além.
2010
Africa realizou muitos eventos da Peace Run ao longos dos anos. Desfruta dos eventos que decorreram na Zâmbia em 2010.
2008
A primeira medalha Torch-Bearer foi oferecida ao Campeão Olímpico, nove vezes medalha de ouro e porta-voz da Peace Run Carl Lewis. Desde essa data, este reconhecimento tem sido oferecido a chefes de estado, filantropos, músicos e atletas - mas também a inúmeros membros das comunidades locais de dedicarama sua vida ao serviço de outros. Pesquisa mais sobre o Torch-Bearer Award ›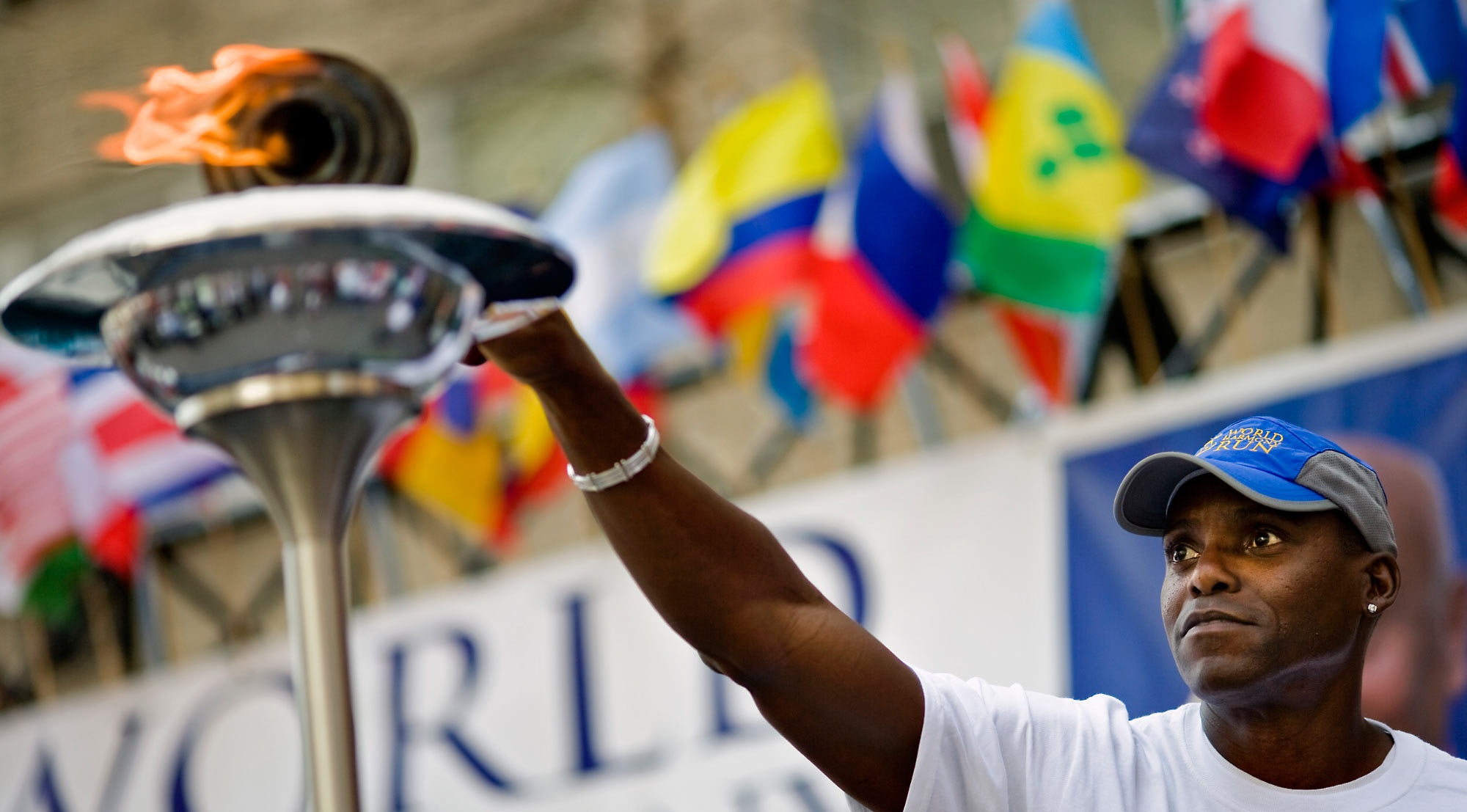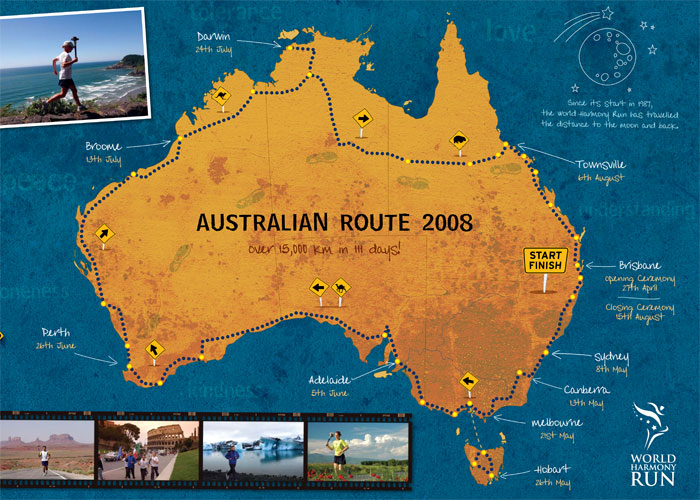 Pela primeira vez a Tocha da Paz percorreu todo o continente australiano. E também visitou o Polo Norte.
2007
Termina, com a receção do Presidente, no Parlamento Europeu em Bruxelas, a Peace Run Europeia com a duração de 7 meses.
2006
Peace Run nas Caraíbas visita 11 países e é recebida por 4 Chefes de Estado.
2005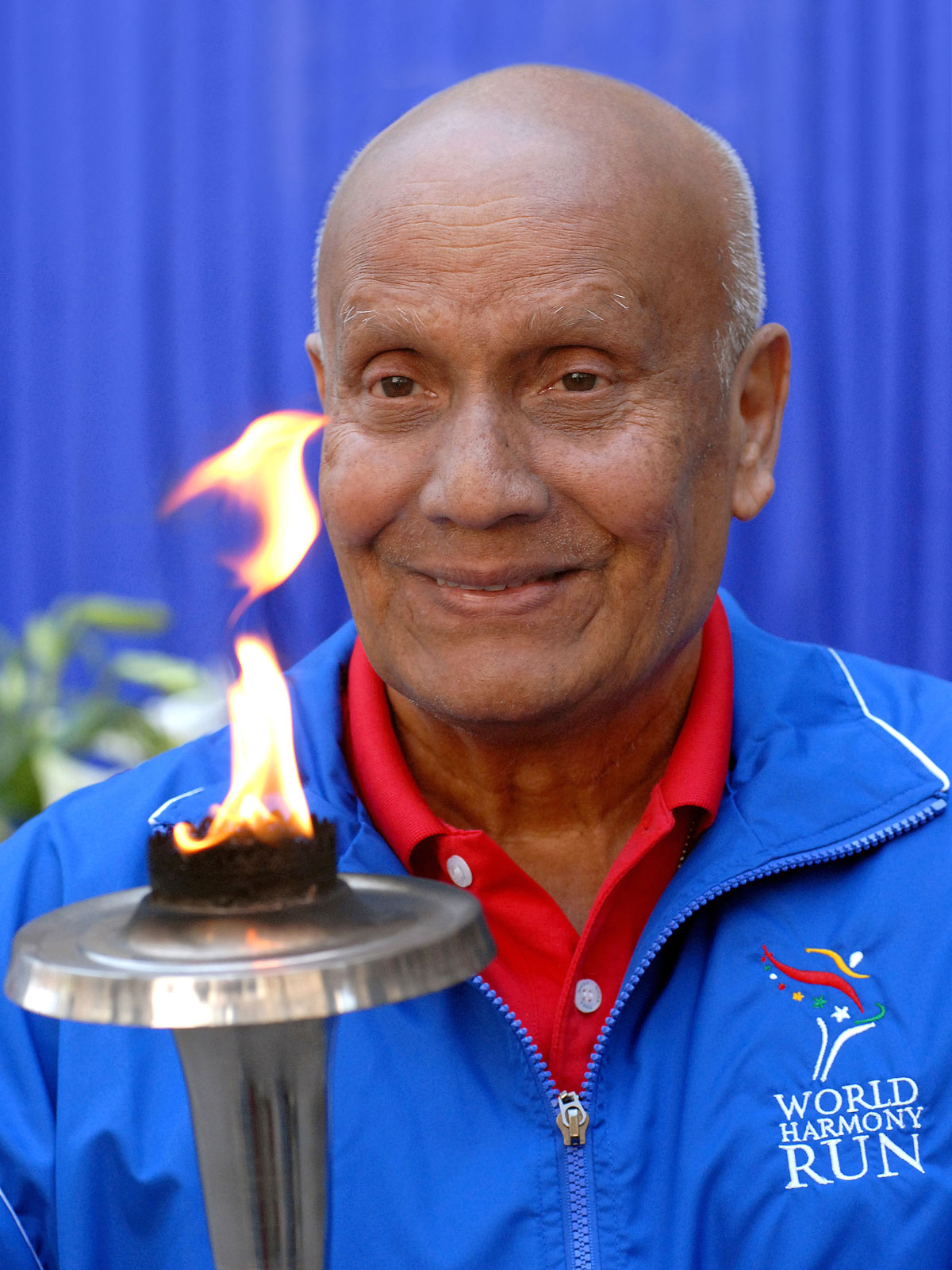 Depois de uma pausa de 4 anos Sri Chinmoy iniciou eventos sobre a paz , desta vez sob a temática  da World Harmony Run. Também compôs a canção da World Harmony Run, a qual ainda usamos nos eventos anuais.
Mantivemos o nome World Harmony Run name até 2013, e desde essa data voltámos à designação original: Sri Chinmoy Oneness-Home Peace Run.
A 15 de abril de 2005, no dia anterior ao lançamento da  World Harmony Run, Sri Chinmoy compôs a canção "World Harmony Run"  Podes ouvi-la abaixo. Faz Download da pauta aqui.
1999
Em 1999 uma rota contínua de um ano, uniu  42 países europeus. A equipa totalizou 90 corredores, alguns participaram durante todo esse ano.

1998
Nelson Mandela, Presidente da África do sul, recebe a Tocha da Paz na presença do fundador Sri Chinmoy. 55 Chefes de Estado já receberam a Tocha.
1996
O cosmonauta Gennady Strekalov leva a Tocha da Paz ao espaço! Ele transportou-a até bordo da estação espacial Mir (que significa paz no idioma russo) e passa a Tocha aos astronautas americanos.
1995
O Papa João Paulo II recebe a Tocha diretamente do  fundador da Peace Run, Sri Chinmoy, no Vaticano em Roma.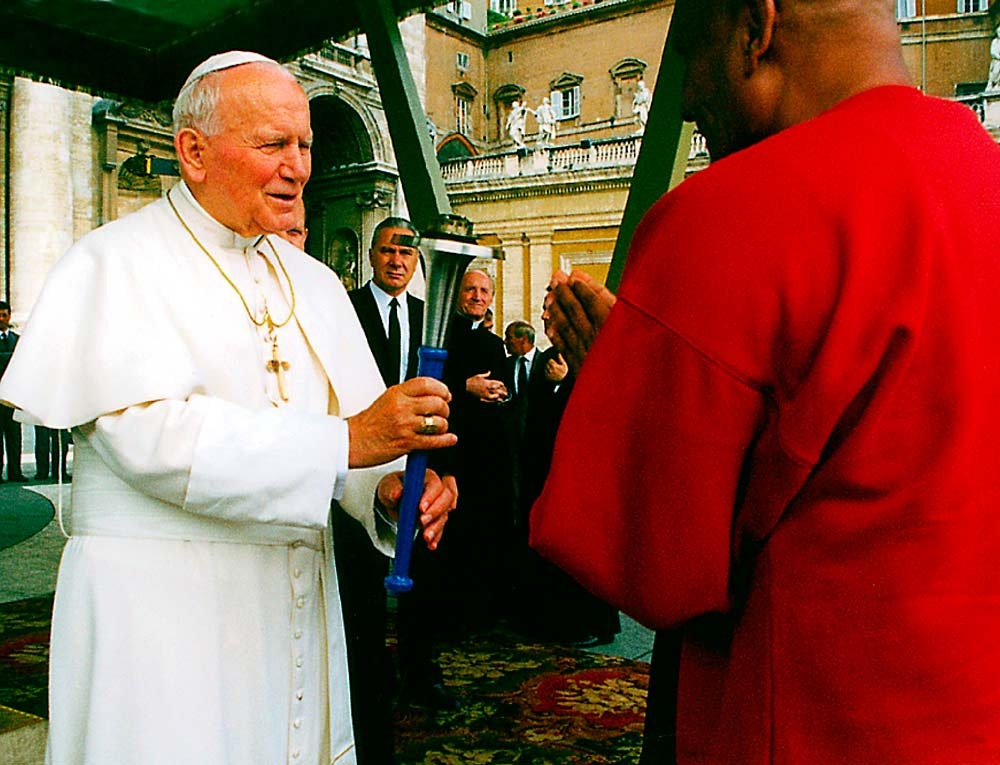 Sua magestade a Rainha Isabel II utilizou a Tocha da Peace Run para acender o primeiro dos Marcos  da Paz distribuídos pelo Reino Unido no dia das 50ªs celebrações da vitória da Europa (VE day).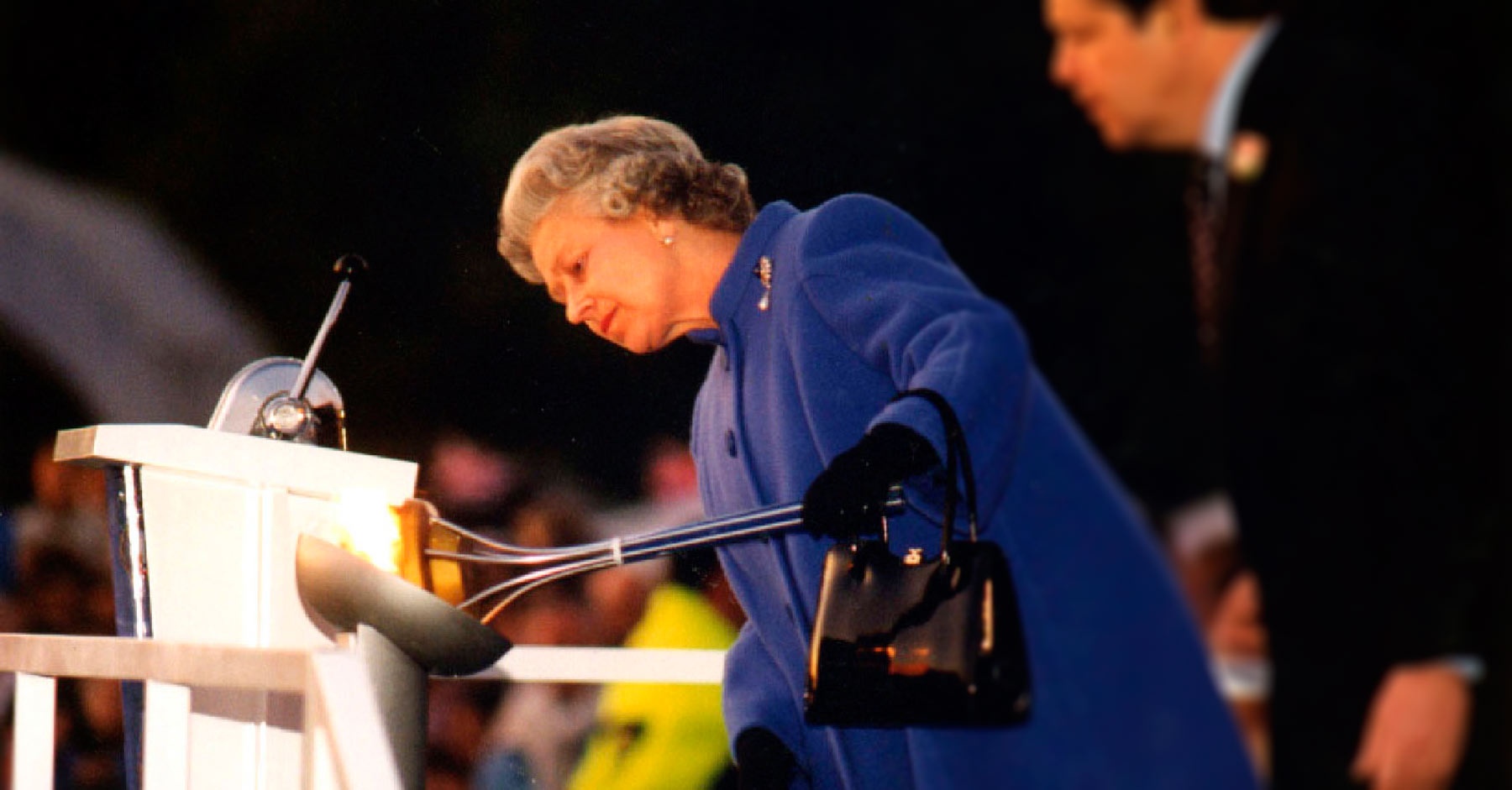 1994
Madre Teresa reúne-se com Sri Chinmoy em Roma a 1 de outubro e recebe a Tocha da Paz.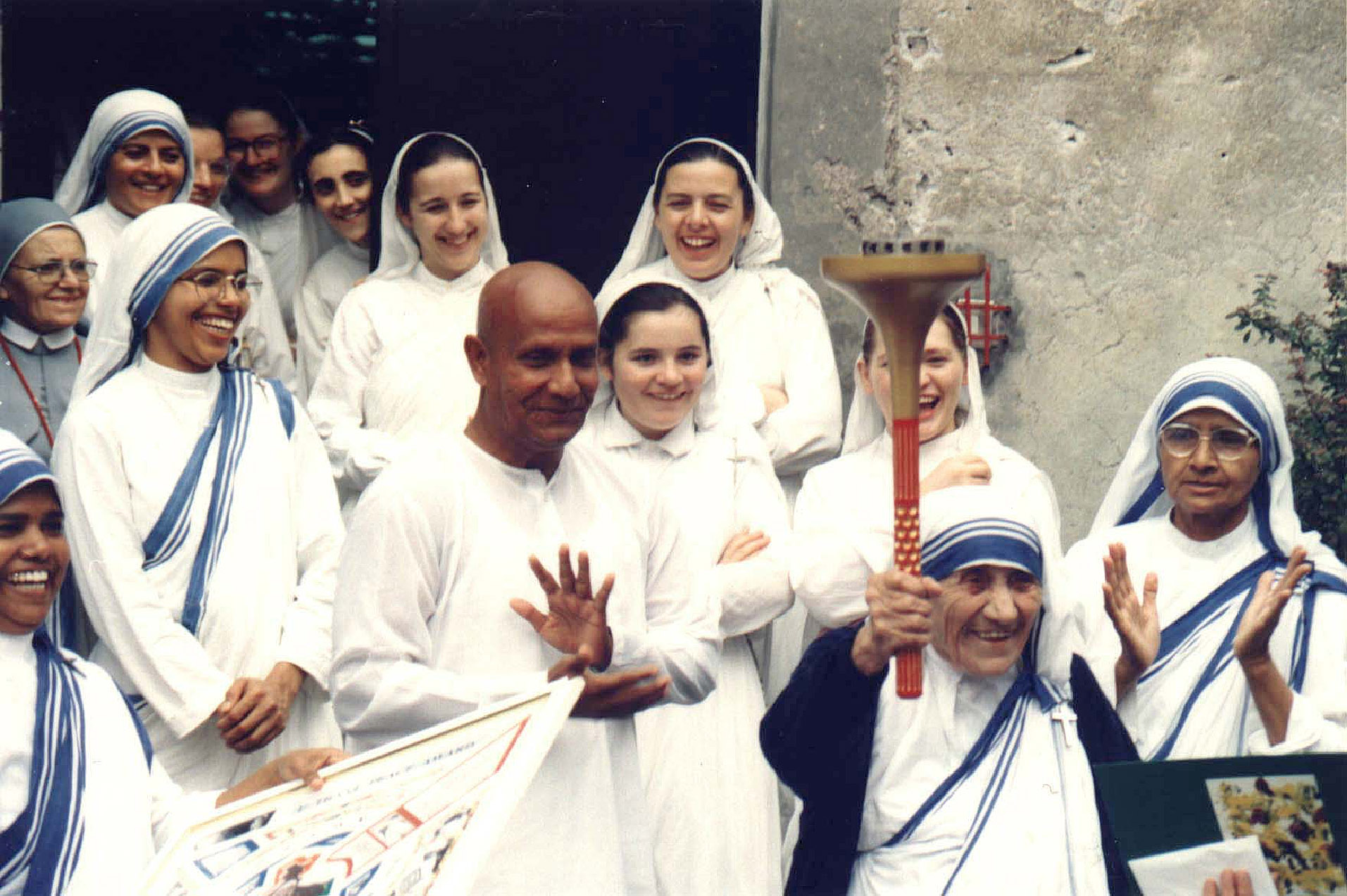 1991
Pela primeira vez uma corrida ligou o Egito a Israel (1991), Egito com a Jordânia e Israel (1993), Egito com a Jordânia e Palestina (1995). Uma corrida de estafeta histórica que juntou estes 4 países em 1999.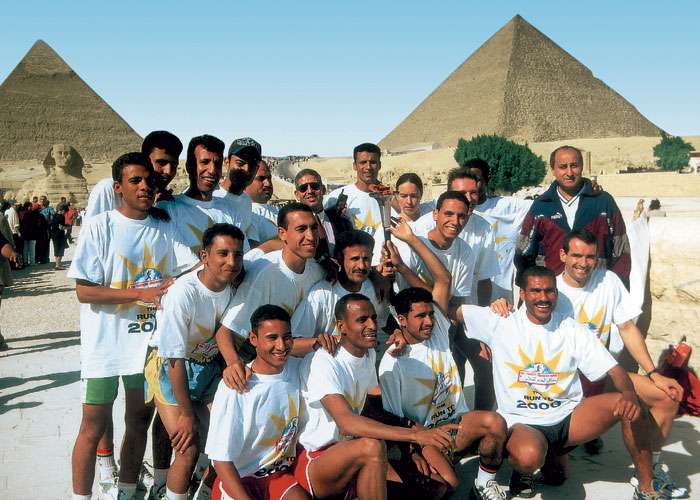 Sri Chinmoy compôs a canção da Peace Run a 2 de março de 1991, em Nova Iorque. Podes ouvi-la,  abaixo, cantada por alguns dos corredores da equipa da Peace Run. Faz o download da pauta aqui.
1989
A Peace Run visita a Antártica, o que significa que a Tocha da Paz já percorreu os 7 continentes.
1987
A 27 de abril de 1987 o lançamento inaugural da Peace Run contou com a cobertura televisiva nos Estados Unidos e a nível internacional através do programa The Today Show. Clarence Clemons, Carly Simon, Narada Michael Walden, juntaram-se ao fundador da Peace Run Sri Chinmoy e a centenas de entusiastas espectadores para dar os primeiros passos pela Paz, no World Trade Center, na cidade de Nova Iorque. Disfruta deste vídeo que mostra a evolução da corrida ao longo dos anos.