The Sri Chinmoy Oneness-Home Peace Run is a global torch relay that offers everyone in the world a chance to express their longing for peace.
Since its founding in 1987, the Run has visited almost every country on earth – over 150 nations and territories – and touched the lives of millions of people.
How it works  How we're organised   Contact Us
We are all sisters and brothers in a world‐family. The goal of the Peace Run is to expedite humanity's efforts to make our world a oneness‐home for all people. We run together to create a world founded on peace.

The Peace Run does not seek to raise money or highlight any political cause. Our simple goal is to create a feeling of goodwill among peoples of all nations.
How does it work?
The Peace Run is a worldwide relay run. Runners carry a torch – the Peace Torch. The torch is passed from hand to hand, from person to person, as we travel from nation to nation.
Running with the Peace Torch is a unique experience. It awakens the experience of peace as a tangible reality - a reality that is dynamic, fulfilling and achievable. Hundreds of thousands of individuals, from schoolchildren to heads of state, have shared the joy of this experience.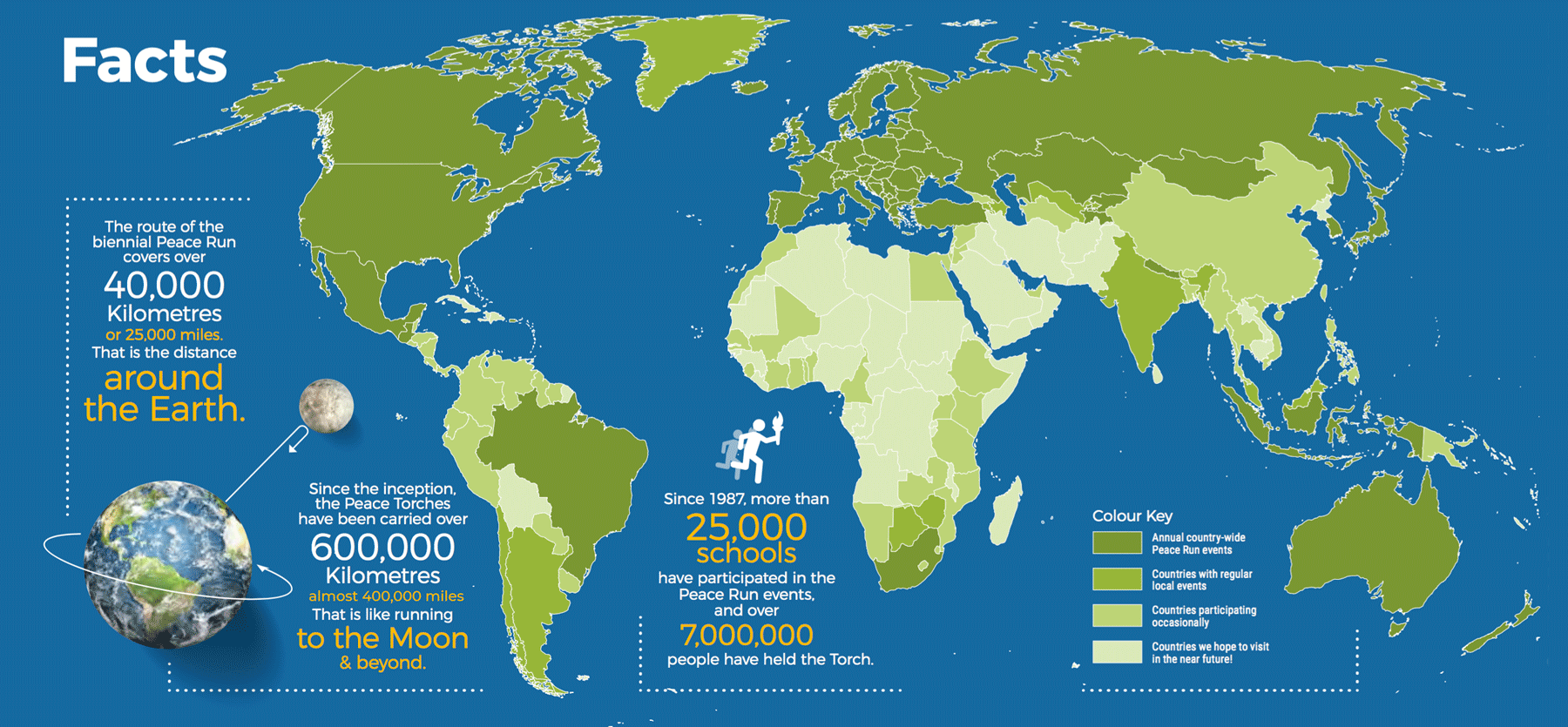 Founder - Sri Chinmoy
Many people, out of their boundless compassion and affection, call me a man of peace.... I take myself as a student of peace, not as a man of peace — and 'peace-maker' is far beyond my concept. Only a student can learn. If I remain a student of peace, I will be the happiest and the proudest person. Only a student can learn. For him is the ocean of knowledge and the ocean of peace, the ocean of peace.

Sri Chinmoy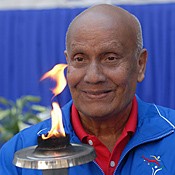 Sri Chinmoy's work for peace spanned five decades and earned him appreciation from luminaries such as President Mikhail Gorbachev, President Nelson Mandela and Mother Teresa.
In 1970, with the encouragement of then United Nations Secretary General U Thant, Sri Chinmoy began a twice-weekly series of talks and reflections on peace at the United Nations in New York, which he continued until his passing in 2007.
Sri Chinmoy was an athlete, a poet, a music-lover, a philosopher and an artist – and he showed that all of these could play a powerful role in the pursuit of peace. Over the years, he provided the visionary spark for numerous imaginative grassroots initiatives to bring people together. The Peace Run – the largest of these initiatives – was founded in 1987.
---
Historical Foundations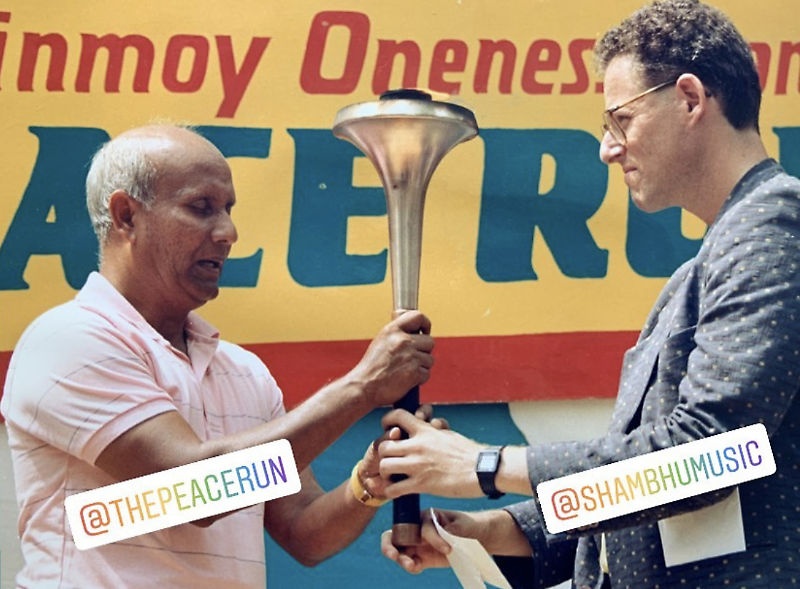 In mid 1986 Sri Chinmoy asked Shambhu Neil Vineberg to develop and lead a visionary new event - a global running relay dedicated to the cause of peace entitled the Sri Chinmoy Oneness-Home Peace Run. Shambhu was deeply grateful for this opportunity and had developed his skills organizing relay type events including a non-stop 48-state bicycle relay entitled "America's Freedom Ride."
Shambhu, seen here with an early collaborator Aparajita Fishman, was deeply moved by the spirit of the Peace Run and profoundly grateful for the role he was able to play in bringing Sri Chinmoy's vision to fruition. In turn, Sri Chinmoy was eternally grateful for Shambhu's tireless self-giving spirit as well as his visionary leadership in creating this remarkable global event. Shambhu served as, in Sri Chinmoy's words, "our first and foremost Executive Director" from 1986 - 2002. Shambhu continues to offer support and good wishes, taking tremendous satisfaction in the continued growth of the Peace Run.
Shambhu also happens to be a gifted musician and composer. His yearning for and expression of peace now finds life through his music. You can find out more at Shambhumusic.com.
---
Our Peace Run team
The Sri Chinmoy Oneness-Home Peace Run is co-ordinated entirely by volunteers. The international Peace Run relay teams are made up of runners from all walks of life, who take time off from their jobs or studies to join the team for a few weeks.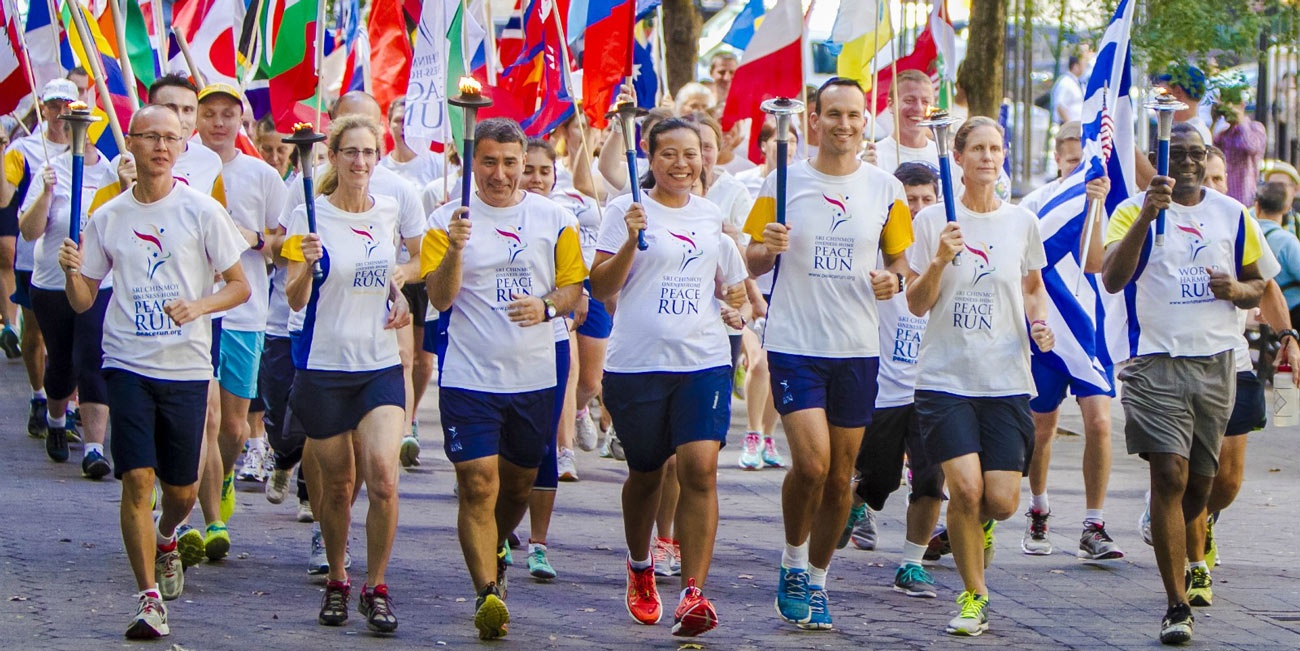 How we are structured
The headquarters of the Peace Run is in New York, but our events around the world are independently co-ordinated by Peace Run committees in each country. The Peace Run is funded through a combination of financial donations, grants and in-kind donations.
In the United States, the Sri Chinmoy Oneness-Home Peace Run Inc., is a 501(c)(3) non-profit entity incorporated in the State of New York.
We have Peace Run committees in many US states and cities, who help to coordinate events in their respective areas. When we organise a Peace Run event, it is mostly in partnership with schools, community groups, sporting organizations, city and state government departments. We encourage communities to take the ideals of the Peace Run, and use them to create their own special event.