The Peace Run Song and World Harmony Run song were composed by Peace Run founder Sri Chinmoy. Even though we are runners, not professional singers, we love to use these joyful songs - they really help infuse our events with the Peace Run spirit.
Feel free to make arrangements, and perform these songs to welcome the Runners when they arrive at your school or event!
The Peace Run Song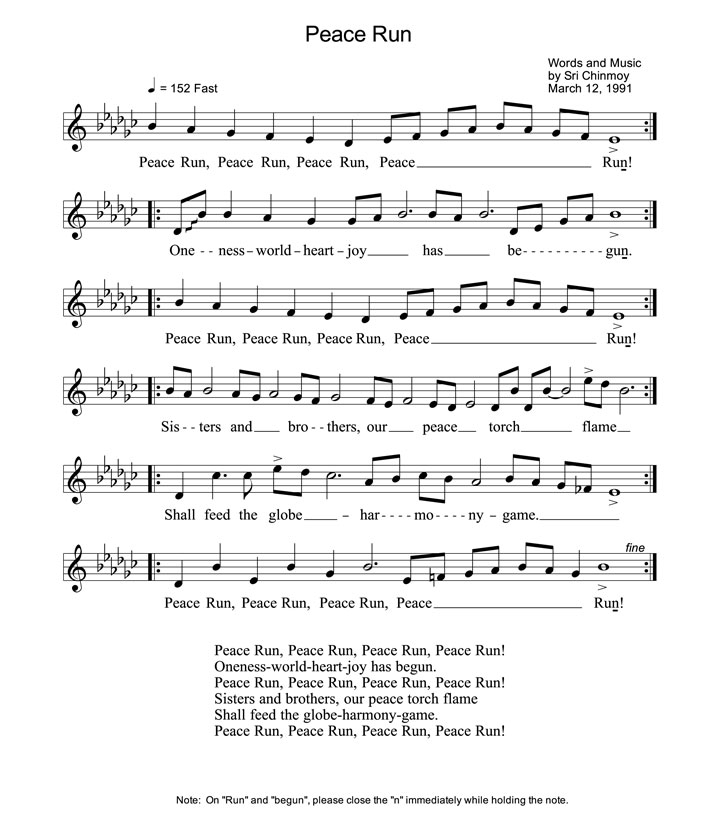 The Peace Run song was composed by Sri Chinmoy in 1991. For us, the runners, this song epitomises the spirit of the Run: oneness, joy, harmony and all citizens of the world living as one big family.
---
World Harmony Run Song
This song was composed by Sri Chinmoy in 2005. As you can see, it is a short and infectious two-line song, and children love to sing it along with us. Over the years, we have developed a set of actions that go along with the song, so the children can imagine they are running along with us.
The audio recording above is of the very first arrangement made of the World Harmony Run song, only a few days after it was composed. Sri Chinmoy suggested we add a few things, like whistling, to make the arrangement more joyful and powerful.