Australia 2 June: Gold Coast, Qld
Meeting with Tom Tate, Gold Coast Mayor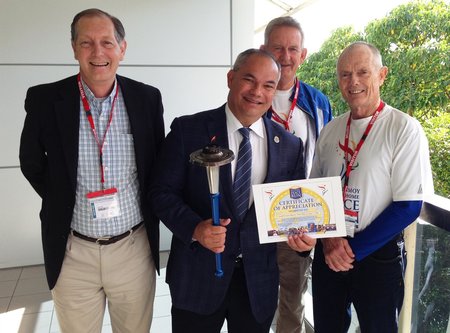 Today a delegation from the Sri Chinmoy Oneness-Home Peace Run met with Mayor of the Gold Coast Tom Tate at the Mayoral Lounge in the Council Chambers. Since he had already met with the Peace Run in previous years, he enthusiastically embraced the Peace Torch, knowing its symbolism as an international unifying force for good.
Here are (left to right) Animesh Harrington, Mayor Tom Tate, Unmilan Howard and Aryavan Lanham.
In the Mayoral Lounge we also met with Katrina Metcalfe, the Mayor's International Relations Officer, and the Mayor's Chief of Staff, Wayne Moran.
The Mayor asked us all about the plans for the 30th anniversary of the Peace Run next year. And as we explained that the route of the Run was passing through the Gold Coast on its way from Brisbane to Perth, he extended an invitation for all the runners to meet him, once again, at his Chambers.
We also spoke about the upcoming talk at Southern Cross University, Gold Coast campus, about the Peace Run and its founder Sri Chinmoy, to be held on June 21, 2016.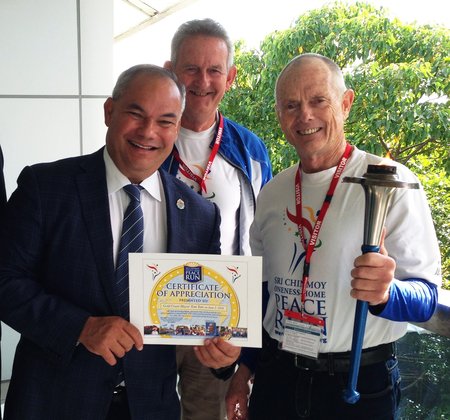 We adjourned to the balcony for a photo shoot — photos taken by Katrina Metcalfe — and the presentation of a Certificate of Appreciation to the Mayor. The Mayor admired the certificate for a long time and said he would have it framed.
Tom Tate is a man committed to fostering peace here and around the world; and he is spearheading the drive to put on one of the world's major sporting events right here on the Gold Coast.
In two year's time, the City of Gold Coast will proudly host the Commonwealth Games™, where more than 6600 athletes and officials from 71 Commonwealth nations and territories will take part in 11 days of competition from 4-15 April 2018.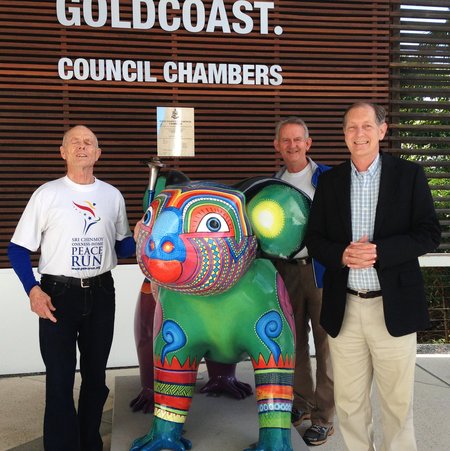 As we left the building we couldn't help but have a photo taken with the large koala statue at the entrance, with assistance from Kristine Andrews, one of the Council staff members passing by. The statue is part of the 'Animals with Attitude Gold Coast Sculpture Trail', raising awareness of the plight of the koala.
Pictured here (left to right) are Aryavan Lanham, koala, Unmilan Howard and Animesh Harrington.